What is a Content Strategist? Job Role, Skills, Salary, Types, & More
In an age of digital marketing and constant content creation, more and more companies are seeking skilled professionals to manage their content strategy. But what is a content strategist, anyway? What skills do they need? And how much can they expect to make? In this post, we'll answer all your questions about the job role of a content strategist. Stay tuned!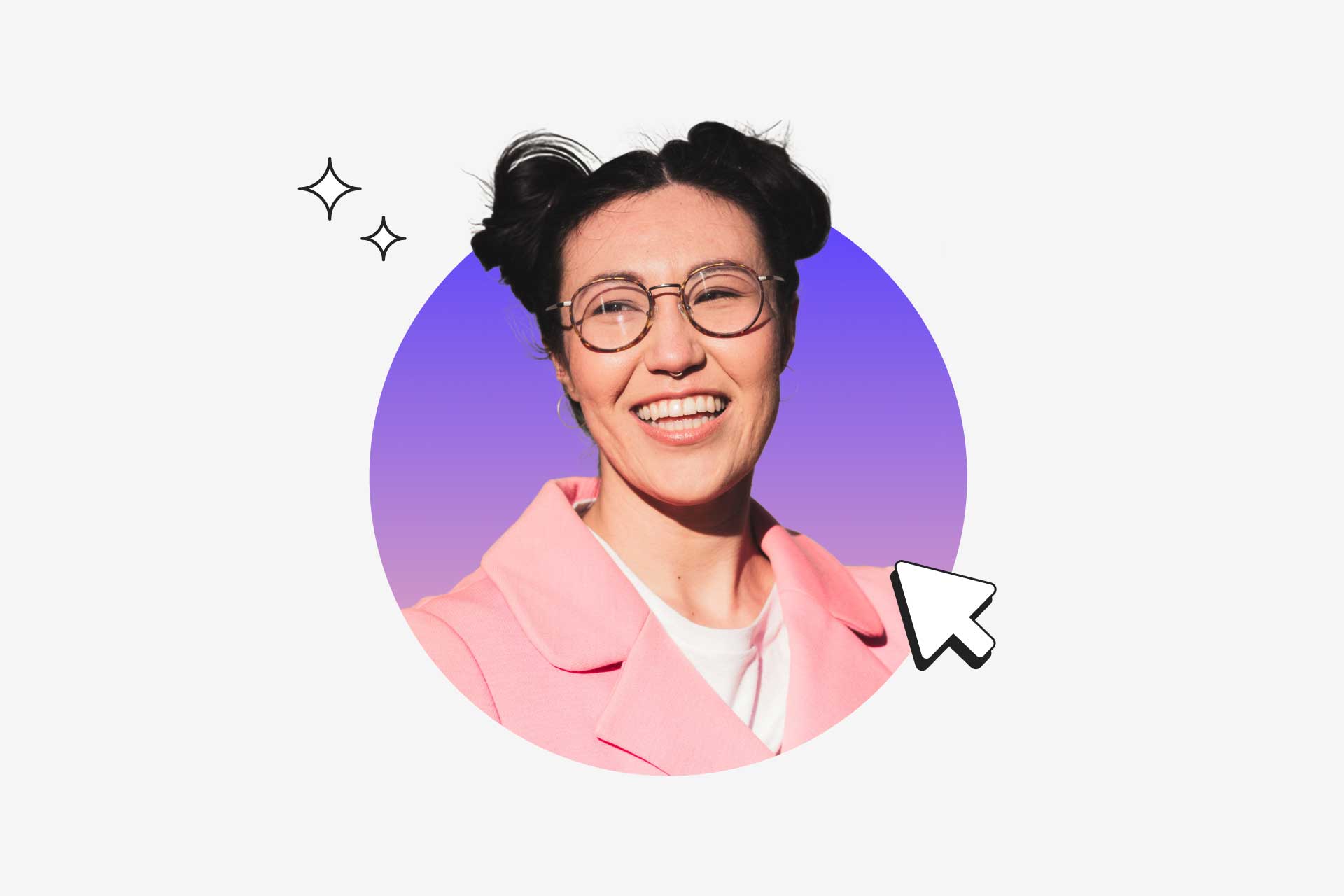 70% of marketers are investing actively in content marketing due to its high return on investment.
However, content marketing without a well-planned strategy usually fails to deliver results. As business owners are becoming more aware of this, the greater the chance for them to hire content strategists.
This makes this position one of the most in-demand jobs at the moment with a $64,611 average annual income, according to Payscale.
In fact, about 537,000 people on LinkedIn have the job title Content Strategist, and 4,284 content strategist positions are open in the U.S.
But, what do content strategists do, exactly? What skills are needed for the job and how do you become one? This guide will answer these questions.
We'll also talk about how Acadium's apprenticeship program can help you succeed in the content marketing world.
Acadium Apprenticeships
Become an expert in content strategy
Work with a mentor for 3 months and gain the content marketing work experience you need to get hired. 100% remote and always free.
What is a content strategist?
Content strategists are primarily inbound marketing specialists who plan, produce, distribute, analyze, and optimize a brand's content strategy to boost search engine rankings.
In addition, content strategists are responsible for identifying the brand's voice, selecting appropriate channels, and analyzing the client's needs.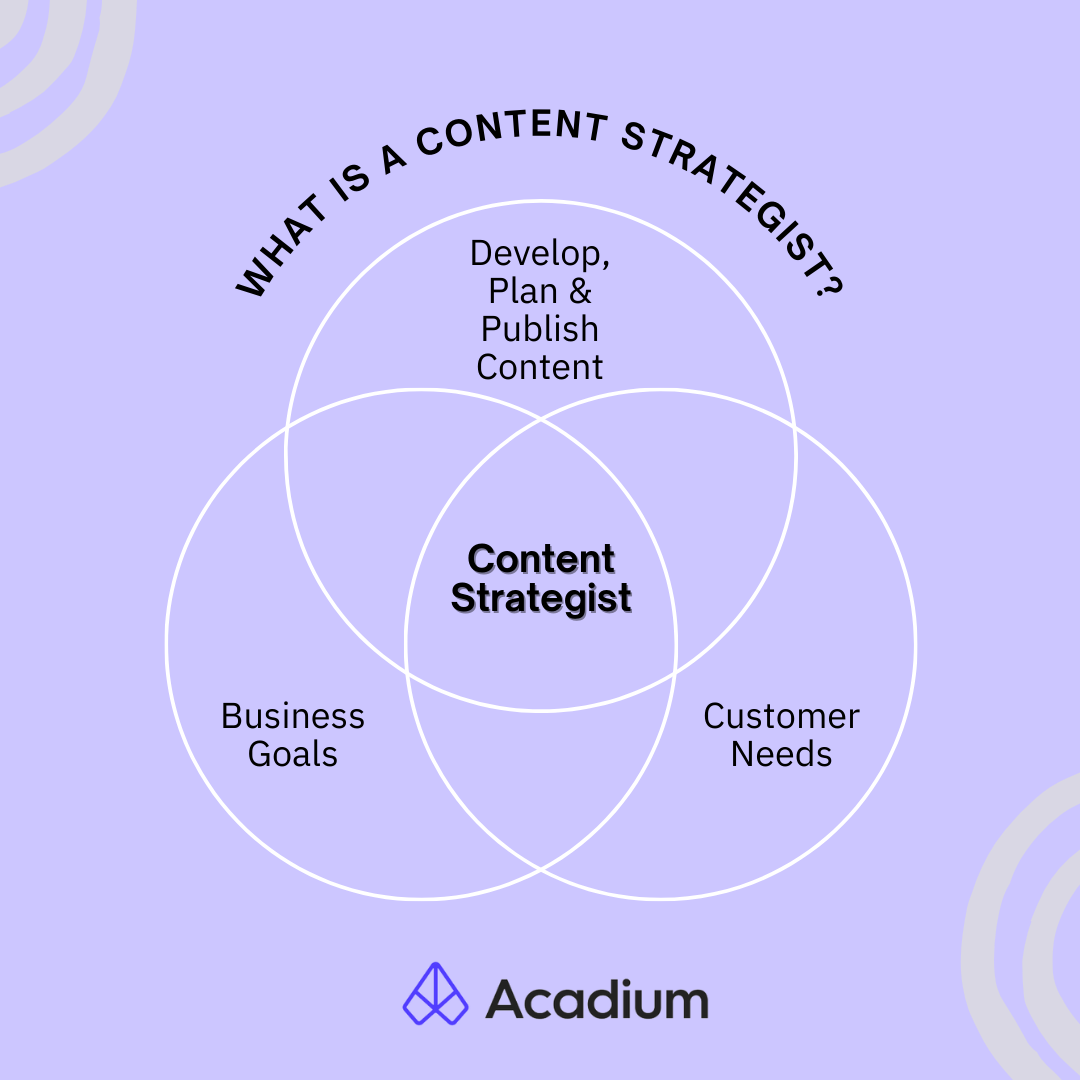 However, take note that content strategists aren't traditional marketers. As per Julia McCoy & Ashley W., content strategists at Express Writers:
"A web content strategist is, first and foremost, an inbound marketer. They use their knowledge, skills, and talents to help brands earn attention organically. The traditional marketer, on the other hand, is typically labeled as an interruption marketer. They spend their time competing with millions of other businesses to interrupt and gain attention from consumers."
Using this graphic, you can see how a content strategist's approach to marketing differs from what a traditional marketer does: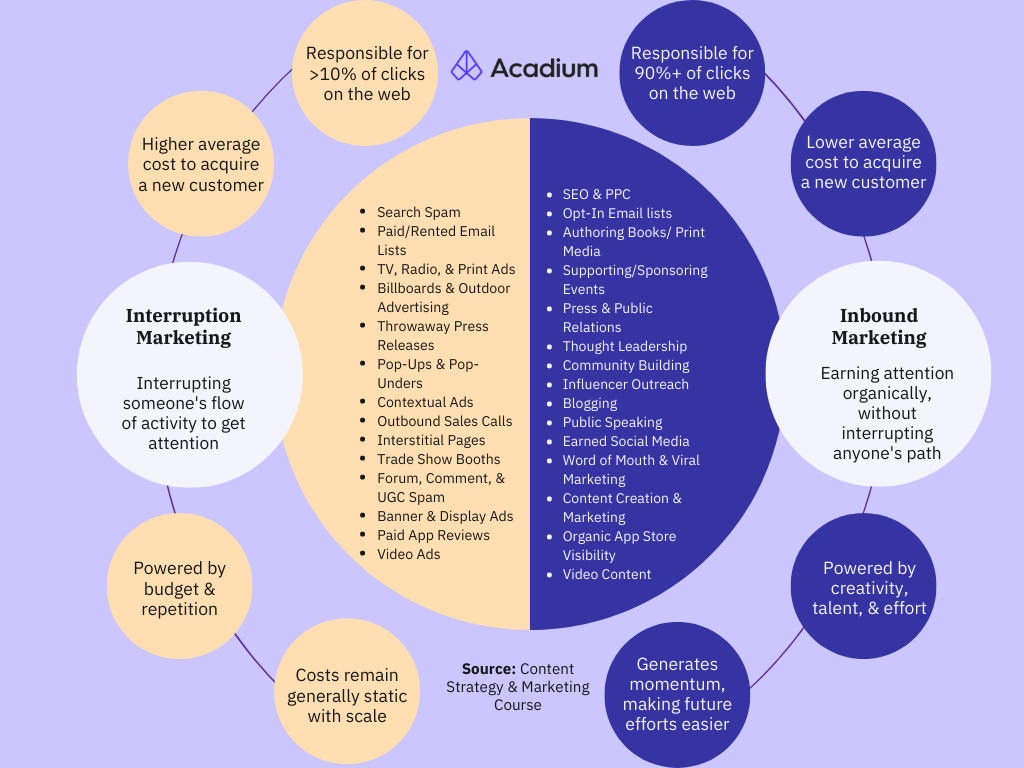 In essence, a content strategist is an audience-centric marketer. Based on their understanding of their audience, content strategists develop a marketing strategy that meets their customers' wants, needs, and desires.
They are able to do this by optimizing all four elements of inbound marketing:
Attract inbound traffic
Turn traffic into leads
Convert leads into sales
Optimize customer retention
Also Read: What Is Inbound Marketing & 7 Strategies to Implement in 2022 [+ Examples]
What does a content strategist do?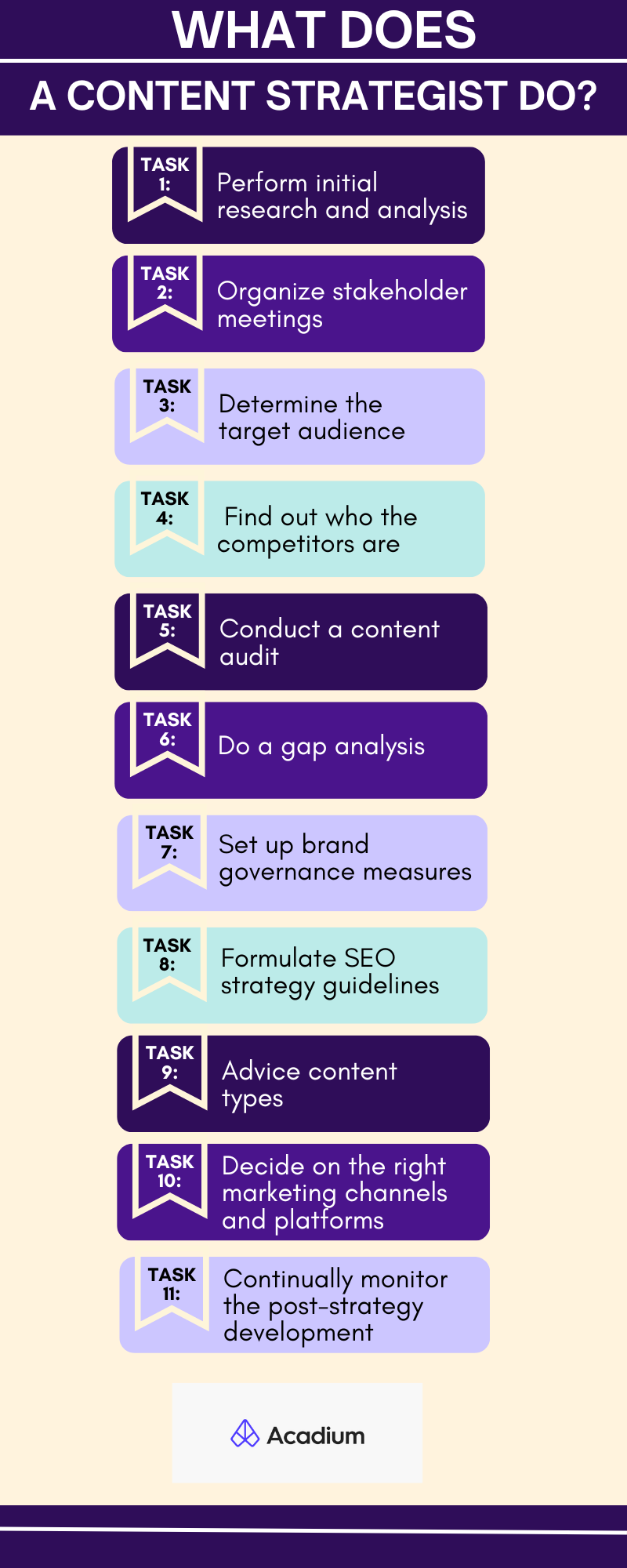 A content strategist's responsibilities can vary from company to company, but in general, they will include some or all of the following:
1. Perform initial research and analysis
Content strategists take a step back to see everything from:
The business goals.
Understanding the brand guidelines.
Performance history.
The strategist will also gather information on customer behavior and current trends.
2. Organize stakeholder meetings
In order to craft a good content strategy, the strategist sits down with stakeholders. In most cases, these stakeholders are senior executives who can provide insights into the project before it proceeds.
During these meetings, the strategist and stakeholders can define successful marketing metrics, project objectives, and specific marketing content goals. There may also be a discussion and reference to key performance indicators (KPIs).
Along the way, the content strategist will keep stakeholders updated on the development of the content marketing strategy.
3. Determine the target audience
It is the strategist's job to identify and collect data on targeted audiences, such as interviews, questionnaires, and polls.
Depending on what is found, buyer personas will be developed or revised, and each stage of the buyer's journey will be addressed.
4. Find out who the competitors are
A thorough competitor analysis can provide valuable information for the development of a content marketing strategy, so you can expect a strategist to conduct one.
5. Conduct a content audit
In the early stages of the project, all content related to the organization's marketing efforts will be reviewed and analyzed.
The purpose of this content audit is to identify what is working well, what needs to be revised, and what needs to be removed from your existing content.
6. Do a gap analysis
Gap analyses help you identify what is missing from your existing content. Among the questions it will answer are:
Do you meet your customers' needs at each stage of their purchase journey?
Do you provide compelling content for existing customers and potential new customers, or only for existing customers?
Based on what the strategist finds, a content matrix may be created to guide future efforts.
7. Set up brand governance measures
Having consistent branding is essential, particularly for multi-channel content. It is the responsibility of the content strategist to establish guidelines for content governance, ensuring consistency of brand tone and voice throughout the entire organization.
The following will most likely be included:
Guidelines for branding.
Content standards.
Editorial calendars.
Guidelines for style and editing.
8. Formulate SEO strategy guidelines
SEO is an integral part of any content marketing strategy. A strategist establishes SEO strategy guidelines for optimizing all online content, including keyword research, metadata creation, and local SEO measures.
9. Advice content types
Based on customer behavior and successful content trends, a content strategist may recommend content types that are suited to the brand's target audiences. Blog posts, videos, infographics, and interactive content can help engage these audiences.
10. Decide on the right marketing channels and platforms
The placement of your content is equally important as the quality of your content. For content distribution, the content strategist will research marketing channels and platforms and choose those that will generate the greatest value.
11. Continually monitor the post-strategy development
Creating and implementing content marketing strategies is just the beginning of the content strategist's job.
There may still be a number of tasks to be completed after the strategy is developed, including:
Continuous tracking of analytics (including traffic, engagement, leads, and conversions).
Making sure the content strategy meets the business goals.
Keeping track of content's return on investment.
Developing ways to deliver and promote content better.
Examining what is working and what should be revised.
Variations in job titles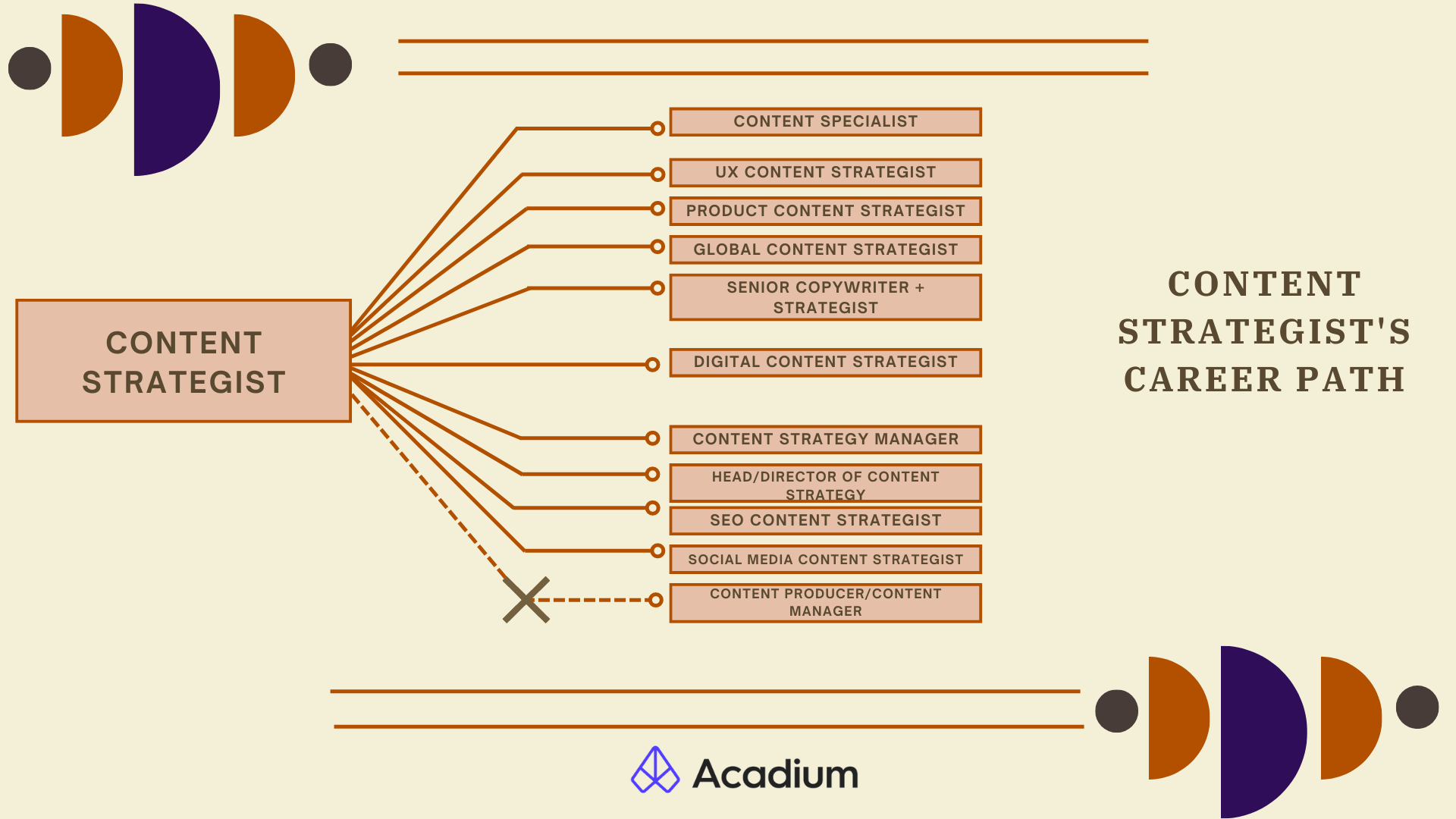 Ultimately, a content strategy depends on what your organization wants to accomplish. With this comes a variation in job titles.
As a high-level job, content strategists may combine parts of different roles or have a mix of them. Or, it could focus on a specific area.
User experience (UX) is a big part of content strategy, and content strategy often focuses on products or marketing and copywriting. Often, these elements are specified in the job title.
Or sometimes companies just like to name the role in a slightly different way. Some of the job titles we've seen are:
Content Specialist
A content specialist creates content for digital sites and social media platforms based on background research they conduct. Their duties include creating content strategies, researching trending topics, and writing content for corporations, companies, and entities.
UX Content Strategist
The role of a UX Content Strategist lies somewhere between that of a designer and that of an editorial expert. Their job is to figure out what information users need, when it should be delivered to them, and in what format and style – all while managing business objectives.
The management, maintenance, and updating of the content are also important to them (governance). A seamless content governance process requires the right systems, people, and processes.
Product Content Strategist
The jobs of a content strategist and a designer aren't all that different from the tasks of a product content strategist.
The only difference is that: In product content strategy, you're applying a focused lens to the content supporting a particular product.
In other words, instead of turning all that strategic work into a panoramic canvas, they ensure that all content in the organization is consistent and everyone cultivates content that blossoms from the same root.
Users' experiences with the product are influenced by the content and are thus critical to its success.
Global Content Strategist
A global content strategist creates and manages content published in a variety of languages, cultures, and regions. From governance to user journeys to performance metrics, they go beyond mere content planning and editorial calendars.
Senior Copywriter + Strategist
Senior Copywriters and Content Strategists may be used for specific tactics and executions, but they also understand how those tactics fit into the overall client strategy. They guide and develop the content team and produce high-level content and strategy for clients across the agency.
Content Marketing Strategist
As the name suggests, a content marketing strategist is primarily responsible for creating or collaborating on content marketing strategies. They are responsible for launching marketing campaigns and measuring results to inform future strategic decisions.
Each content marketing strategy aims to match business goals with tactics that will help achieve them.
Also Read: So You Want to Become a Content Marketing Consultant
Digital Content Strategist
A digital content strategist creates and manages content for a company's website, social media accounts, or other online platforms. Through these channels, they develop strategies for engaging with customers in collaboration with marketing teams.
The role of digital content strategists may also include developing standards for creating and formatting different types of content.
Content Strategy Manager
A content strategy manager oversees a content strategy team within an organization. The team is made up of content strategists. To develop effective content strategies, the content strategy team collaborates with the UX design team, product managers, and other stakeholders.
Head/ Director of Content Strategy
Depending on where you work, a director of a content strategy can mean a variety of things, but generally, they are responsible for the company's content marketing, including:
Establishing a schedule for how often and what kind of content the company will publish
Managing a team of in-house writers and editors, graphic designers, proofreaders, and social media specialists
Developing and enforcing editorial standards for the company
Using a variety of metrics to measure the effectiveness of the company's content, and then retooling their approach accordingly.
Making sure that the content being created is driving the company's business goals
SEO content strategist
An SEO content strategist is no different from an SEO specialist: both works to increase sales for their companies.
SEO content strategists optimize a website's pages to ensure relevant search results, create positive user experiences, and increase website traffic, lead volumes, and brand awareness.
They also test, analyze, and optimize a website for search engines, so the website ranks higher in search results on major search engines like Google and Bing.
Also Read: How to Become an SEO Specialist: A Complete Guide + Tools
Social Media Content Strategist
Basically, in the same role as a social media strategist: a social media content strategist creates content for their company's social media platforms, which include Facebook, Twitter, and Instagram.
In order to maximize social media exposure, they identify target audiences and schedule posts accordingly. Keeping up with social media trends is also part of their job.
Also Read: How to Become a Social Media Manager: Skills, Salary, & Tools
A content strategist is not
As we've seen above, content strategists can take on multiple career paths, but Celarity, a staffing & recruiting agency for marketing, creative & digital talent, clarifies that a content strategist is not:
A Content Producer
The job of a content strategist is to develop strategies and tactics for creating and delivering content that will engage multiple stakeholders. A content producer creates the content.
A Content Manager
A content strategist develops a strategy and appropriate tactics for engaging consumers. In order to raise brand awareness and inform the public, a content manager implements and manages content.
Content strategist job description
A job description is important when looking for a content strategist job because it outlines the responsibilities and qualifications required for the position.
This can help you determine if you are a good fit for the job and ensure that you are submitting a resume and cover letter that highlights your skills and experience relevant to the position.
Here's a sample content strategist job description from Simplilearn:
The job description of a content strategist includes planning, designing, creating, editing, and publishing relevant content based on the business objectives and needs of the company.
A content strategist's main responsibility is to develop a content strategy that conforms to and achieves business objectives. The content strategist's main focus is content planning, which includes creating, curating, planning, and researching content.
It is your job as a strategist to come up with creative ways to engage your audience online and to produce those interesting types of content.
Ultimately, it will be up to you to make sure your web content aligns with your brand and adds value to existing and prospective clients. A successful content strategy drives inbound traffic to the company's website and encourages readers to take action.
A content strategist must have excellent writing skills, client-facing skills, and SEO expertise. In order to plan and publish content effectively, the strategist must work with the organization's content management system, web analytics platform, and SEO research software.
Using customer personas as a starting point, you must gather data, research, and analyze customer thoughts, before designing content strategies to convert new and existing customers.
What are the roles and responsibilities of a content strategist?
Depending on the organization, content strategists may have different roles and responsibilities.
For example, Robert Walters' Associate Director, Nick Louca, defines the role of a content strategist as follows:
"A content strategy manager, or content strategist, oversees the planning, development, and management of informational content produced by an organization. They take into account what the content is, what it can be, and how to curate content so it communicates the key values of the organization."
Meanwhile, Indeed US describes the responsibilities of a content strategist this way:
One of the biggest responsibilities of a Content Strategist is to develop and enforce a content plan. It involves putting together a schedule, assigning projects, as well as other duties and responsibilities, such as:
Working with editors, content writers or copywriters, producers, project managers, and others to create content
Staying on top of the latest developments in search engine optimization, content trends, and consumer behavior
Adapting older content to meet new standards
Making sure all content, from websites to social media channels, is consistent
Keeping a calendar of content launch dates and project deadlines
Implementing new content channels and overseeing their development
The takeaway here is that you should ensure that you align your skills with the company's job description when applying for content strategist jobs, which we'll talk about next.
Types of content strategists
To understand what skills you'll need, it's helpful to know that a content strategist has two distinct mindsets.
In general, there are two areas of content strategy: front-end and back-end. Each of these requires a different mindset. While it's important to learn both skills, most content strategists focus on just one.
Here's an example from Anni Rockley at Content Marketing Institute explaining the difference between the two: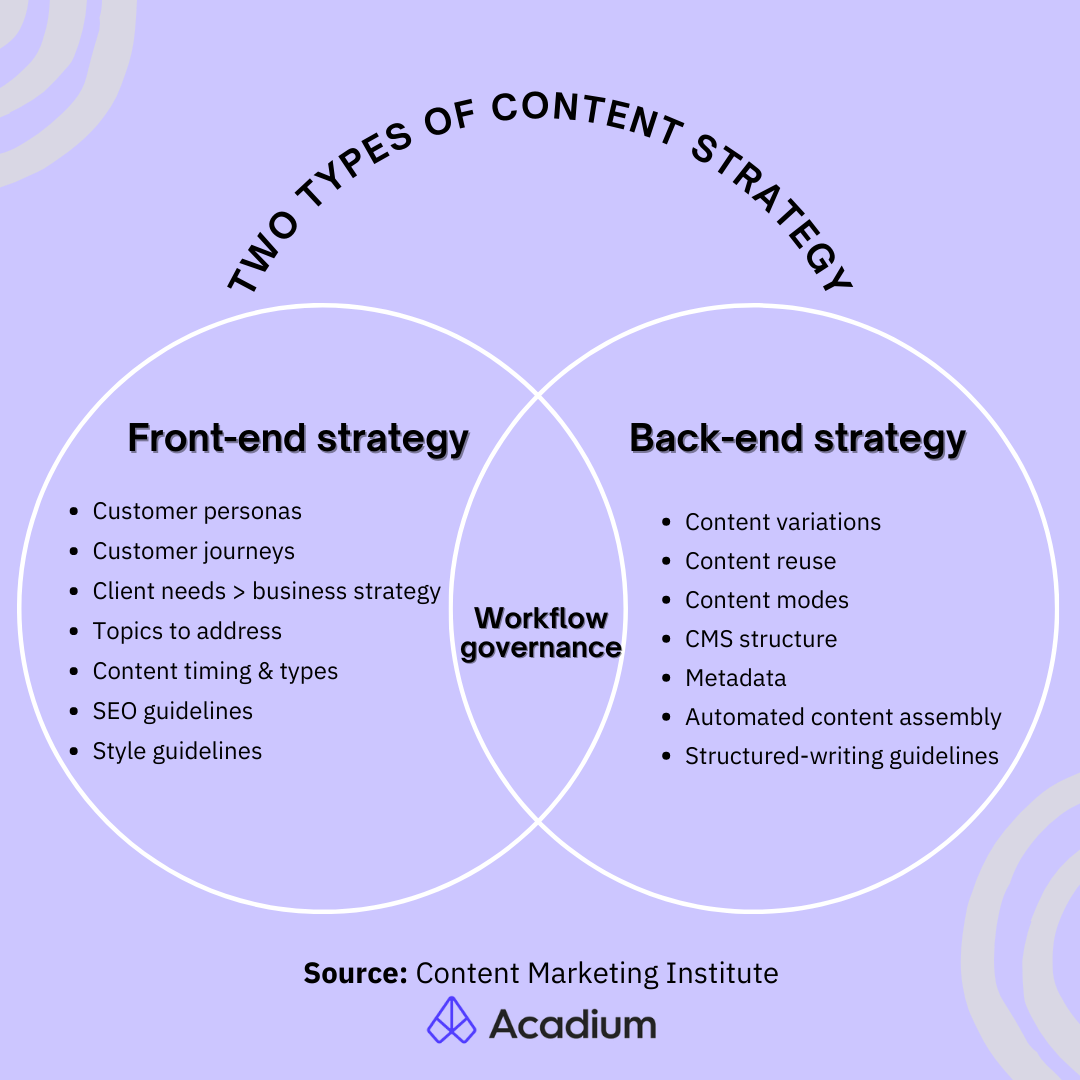 You can think of the front end as the user journey and the experience the content has for the audience. The key is to consider personas, user needs, and how to deliver content that meets those needs consistently.
Unlike the front end, the back end is more technical. Here, content is viewed as data. It's about structuring, scaling, storing, and retrieving content, and recommending the best technologies and content marketing tools to use.
What skills do you need to become a content strategist?
Now that you've understood the two mindsets of a content strategist, it's also essential that you have the following skillsets to use on a daily basis.
1. Strong copywriting skills
It doesn't matter how well you plan or distribute your content if you can't write great content. Writing is the most important part of content marketing.
Identify who's creating your content (internal or external) and how well they understand your business. Copywriting skills are essential to directing, planning, designing, and editing content.
Whether you write every day or not, at some point you'll have to jump in and write something, and you'll have to learn what works and what doesn't. If you don't know how to write a copy, there are tons of content marketing online courses or free resources, to help you get started.
A content strategist needs to see the big picture and build a storyline across a website or campaign. When it comes to websites, this often starts with figuring out where the content is and how it works.
Test your campaigns and research your users' mindsets. Then, use this feedback to refine your messaging.
2. The ability to present content
As soon as your content is written and approved, you have to decide how it will be packaged for prospects and customers.
Depending on analytics, research, and experience, each type of content (social, video, eBooks, guides, etc.) has a specific purpose for your audience.
If you're going to write content, you should have both long-form and short-form, with compelling headlines and outstanding images, regardless of the format.
3. Content delivery skills
Once your content is ready for production, you need to know how to get it out there.
You should work with other digital marketing experts on your marketing team to figure out the best distribution channels. Even a simple blog post can get traction if you research the topic and find out how to reach your audience.
4. Campaign experience
You cannot strategize a campaign if you haven't been executing it for several years. A content strategist must be able to plan, deliver, and execute marketing campaigns, as well as analyze marketing metrics and develop creative strategies.
5. Expertise in content monetization
The content probably isn't the way you earn money unless you work in media. Rather, it is designed to get people to purchase your product.
Your job as a content strategist is to figure out how to monetize your content and communicate this to the rest of the company.
6. Multitasking and organizational skills
As the company's leader, you will be expected to have a self-sufficient, take-charge attitude when it comes to content marketing.
While you'll have the opportunity to collaborate with other members of the marketing team, your specific initiatives will be yours alone. As a result, you'll be managing many different types of projects and people every day.
The use of project management tools, calendars, and note-taking will be crucial to your work.
Tracking projects and organizing communication with stakeholders and other departments is essential to managing budgets, vendor contracts, and editorial calendars, not to mention any changes to content strategy. Oftentimes, you will need higher-ups' approval, so be confident and prepared to share your ideas.
A content strategist's day typically includes meetings with various teams across an organization to discuss ongoing and upcoming projects, create future content, and work with a designer. To craft a cohesive message, content strategists work closely with designers, UX specialists, marketing leadership, and lead generation teams.
7. Editorial competency
According to Awware, an effective content strategist should have knowledge of journalism and experience generating and editing digital content for social media and multimedia.
Among the hard skills of a content strategist are writing for diverse target audiences and creating a variety of content types, such as marketing, technical and instructional documents.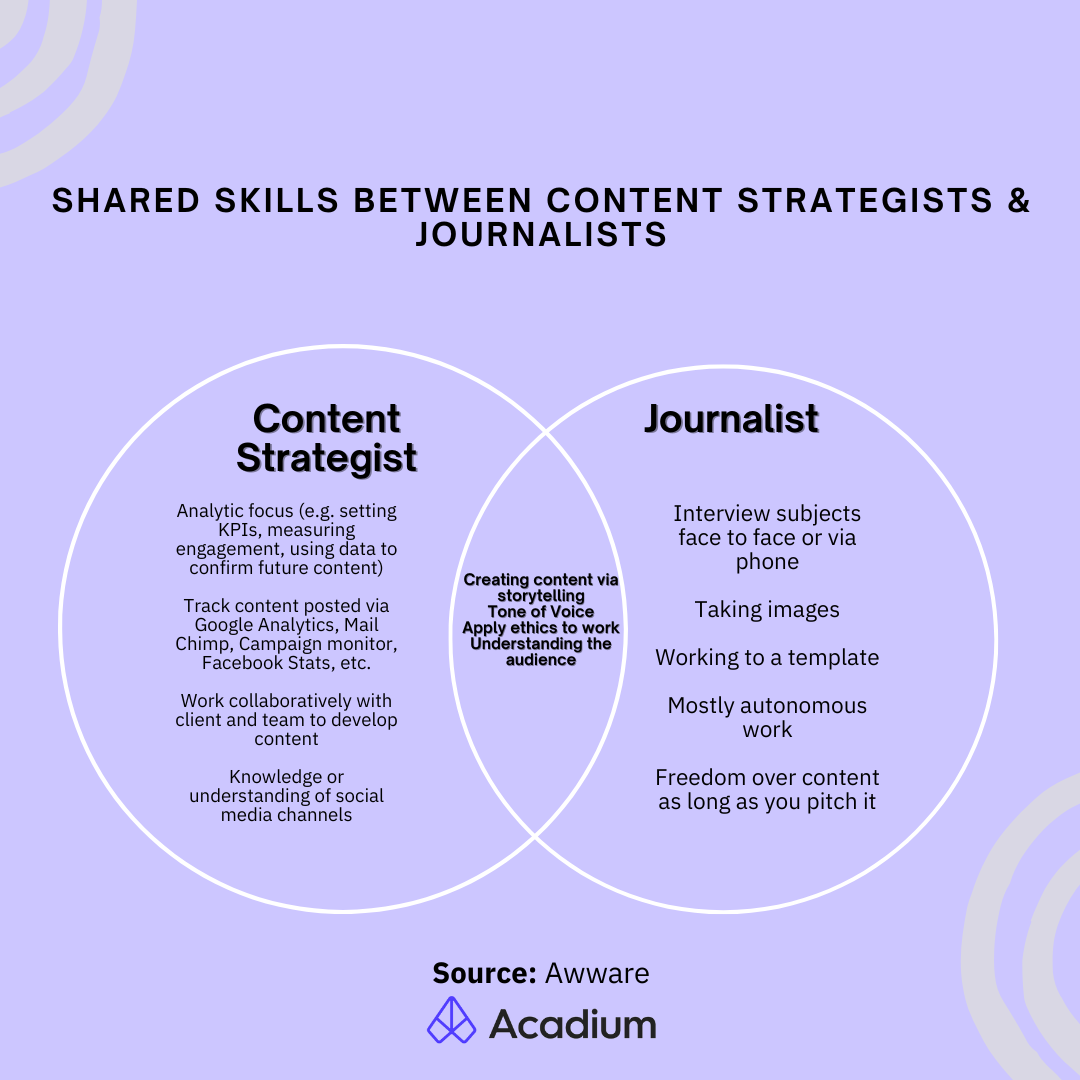 Content strategists need editing skills, but they need more than the ability to cut words and optimize phrases. As migration projects progress, editorial competency becomes increasingly important.
Brands publish a lot of content but rarely track it. Therefore, content strategists should do a thorough audit of their content to see what needs to be kept, edited, rewritten, or retired based on analytics and the content's age.
8. Analytical skills
Today, most marketers collect data with apps and integrations. However, knowing how to use the data is a different matter.
It is your job as a content strategist to observe patterns and trends in your content marketing data and draw conclusions from them.
Maybe your blog posts perform better on Facebook, and your videos do well on Instagram or TikTok. Perhaps your brand's most shareable content is 1,500 words long, published in the morning, and includes two Pinterest-sized images.
9. Consensus-building skills
Your role as a content strategist will be to represent your brand's content. It won't be easy to get everyone on board with your job.
Some people won't even understand the importance of content marketing. That's why you need to outline and show off the many benefits of content marketing across your organization.
How much does a content strategist make?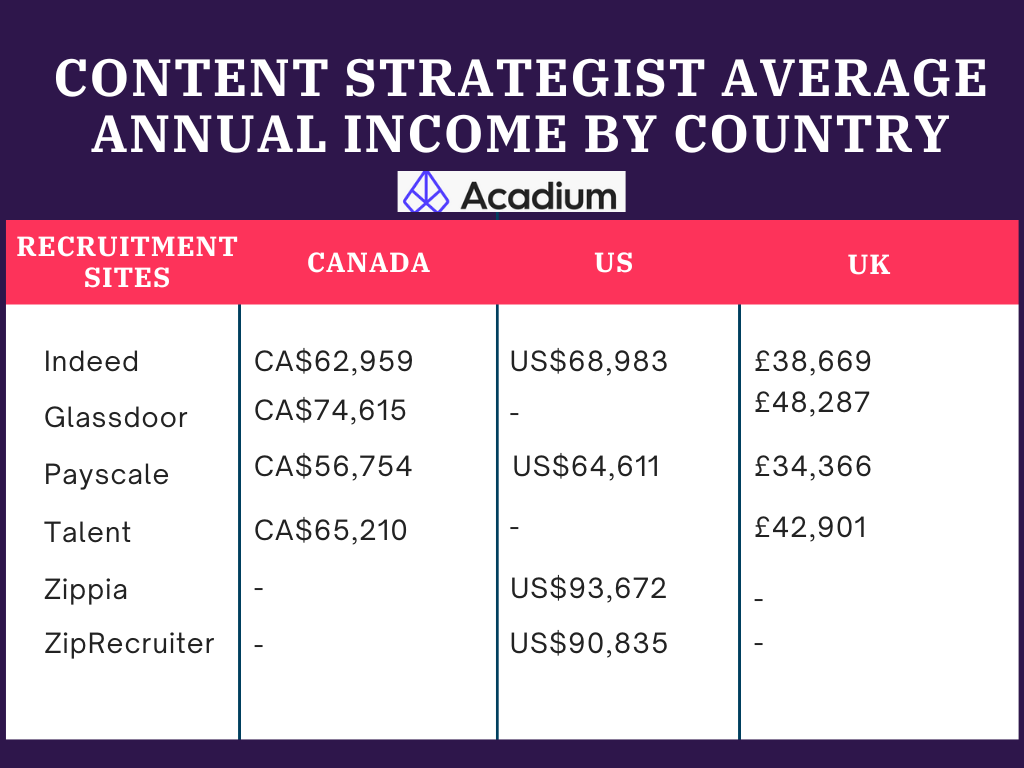 Annual salaries vary widely from country to country. Salary levels may also vary within countries based on factors such as years of experience, education, and skills.
As a result, the following figures are based on salaries reported to talent recruitment sites for openings related to content strategists alone and will be used in this article to provide a snapshot of how salaries differ around the world.
Canadian rates
As of October 10, 2022, Glassdoor reports that the average annual salary of a content strategist in Canada is CA$74,615. Meanwhile, Payscale calculates it a bit lower at CA$56,754 per year.
Both Indeed CA and Talent almost had similar estimations with the former at CA$62,959 per year, based on 42 salaries submitted, and the latter at CA$65,210 per year, based on 102 recorded salaries.
The two sites also provided granular pay estimates by region (top two), as seen below:
Talent
CA$76,500 – Ontario
CA$65,210 – British Columbia
Indeed
CA$73,864 – Burlington, Ontario
CA$68,974 – Vancouver, British Columbia
US rates
As of Oct 9, 2022, the average annual pay for a content strategist in the U.S. is US$90,835, according to Ziprecruiter. This is slightly lower by US$2,837 compared to Zippia's calculation which is US$93,672 per year.
However, Indeed US reports that the average salary for a content strategist is US$68,983 per year in the United States based on 313 salaries reported which is higher than that of Payscale averaging US$64,611 per year.
Apparently, Indeed also revealed that California and New York are two of the highest-paying cities in the country:
US$107,045 – San Mateo, California
S$102,159 – Mountain View, California
S$91,380 – New York, New York
UK rates
In the United Kingdom, the highest annual income report for a content strategist we've seen is reported at Glassdoor (as of October 10, 2022) with an average pay of £48,287 per year. This is followed by Talent at £42,901 per year, based on 6,096 salaries submitted on the website.
Payscale and Indeed UK had pretty similar pay estimates with the former reporting the annual average salary to be at £34,366 while the latter calculates it at £38,669.
The top two cities that offer the highest wages are Bristol (£43,797) and London (£43,684). However, as shown, the difference in their salaries is not really that far from each other.
Becoming a content marketing strategist
Be a part of digital content creation
Creating digital content requires solid written and verbal communication skills.
As you gain experience and develop your own style, you can increase your rates by taking on small-budget freelance writing jobs on platforms like Fiverr, Upwork, or Acadium Freelancing Marketplace.
As you gain experience, you may be able to apply to work for a marketing agency or to join an in-house content team.
Also Read: 7 Unique Ways to Gain Marketing Experience
Learn the basics of SEO
For brands, products, and services to be visible in organic search results, content strategists must create SEO-optimized content.
Content strategists with SEO backgrounds can design content that appeals to both humans and search engines.
Acadium offers a practical SEO course that teaches the skills required for success as a content strategist. The course will teach you how to build a solid SEO strategy and how to generate more traffic with your content by creating content that ranks, performing keyword research and user search intent analysis, and researching your competition.
Our certification course also includes plenty of practical exercises to help you maximize your learning.
Get involved in content editing
Writing is rewarding and great, but you need to move on to editing. This is where you'll learn what it takes to succeed as a content strategist. The content editor is the quality control officer for a publication.
Upon receiving draft submissions from writers, they revise them to align with project specifications and meet strict editorial standards. In your role as an editor, you'll learn more about the publication process and what it takes to publish a successful piece.
Develop the skills needed for a content strategist role
The main differences between a content strategist and a content creator are expertise in content planning/design and ownership of the content publishing and distribution process.
As a content strategist, you must develop the knowledge and skills mentioned in this guide in order to succeed in this role.
Sign up for Acadium's marketing apprenticeship
The demand for content strategists is on the rise, so you don't need to accept the first job offer you get. Instead, put your energy into finding an employer who fits your values and a role that lets you use your strengths to their fullest.
If you haven't done it yet, enroll in our digital marketing apprenticeship program for free and launch a content marketing career. Fill out the application, and submit it to the Acadium marketplace.
As soon as you're accepted, you'll be matched with mentors who can help you gain hands-on experience in content marketing. Additionally, you can take free online courses on Acadium to get a handle on content marketing plus other aspects of digital marketing.
Are you ready to become a content strategist?
Princess "Ji" Kang is a staff content writer at Acadium who unveils complicated topics about digital marketing. She's been wordsmithing for various brands and industries for nearly 6 years, after earning her Master's Degree in English Language and Literature along with her Digital Marketing certification. Her work has appeared on sites such as asksebby.com, wellpetcoach.com, Ready Home Singapore, ThePerfectMedia Group, and more. You can find her at her home mini-library reading, sipping hot coffee, or playing with her cats in her downtime.
Top Marketing Webinars for Digital Marketers in 2023

By attending these webinars, you will have the opportunity to learn from industry leaders, gain insider knowledge, and stay ahead of the competition.

9 Types of Digital Marketing to Choose From in 2023

Digital marketing is a dynamic field that offers diverse career opportunities. From search engine optimization to social media marketing, there are many specializations to explore. Whether you're just starting out or looking to switch careers, this guide will help you find your ideal digital marketing niche.


Subscribe to our newsletter for digital marketing resources
Become a better marketer with our digital marketing resources and tips shared weekly in your inbox.

Build your marketing career for free or find marketing talent on any budget — fully remote.