42 Free Marketing Tools for You and Your Remote Team
When budgets are stretched thin, you and your team need free marketing tools that offer a full suite of functions. You'll find 42 of these valuable tools in this list, categorized by functions.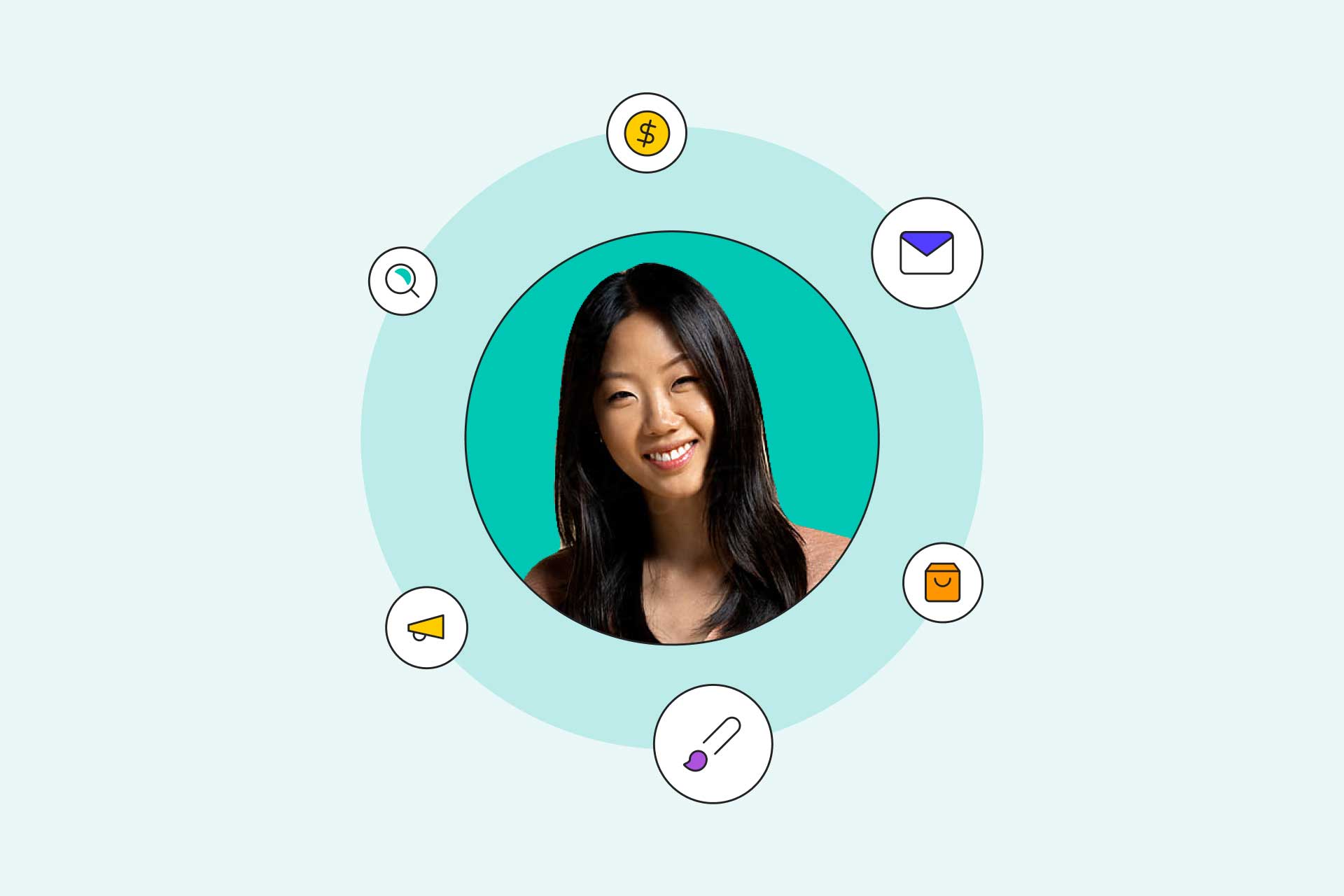 Finding truly free marketing tools for you and your remote marketing team can be a hassle. There are a ton of lists out there that link to supposedly free tools that end up having short free trials, or are useless until paid for. But you don't have to endure this kind of problem anymore!
Check out our list of 42 free marketing tools! For this list, we did our best to include services that offer full usability for free. Some sites have paid options for more functions. Other services might be less known than popular options, which we will also mention and link to when needed.
By the end of this post, we'll also introduce a great way to practice using these tools, all while gaining valuable work experience.
Acadium Apprenticeships
Learn how to use marketing tools
Discover how to use marketing tools in real-world scenarios, and gain work experience. Train with a mentor, for 3 months, completely for free
Content creation tools
Copywriting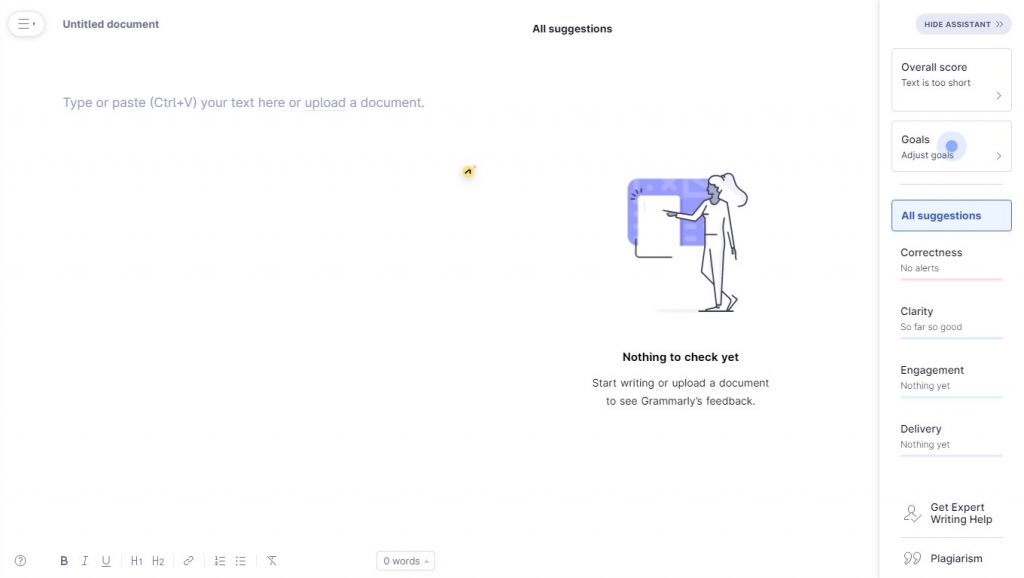 1) Grammarly
Grammarly is a mainstay for marketers. Their free services have two parts. First is their browser extension, which checks your spelling and grammar on any site. Secondly, their standalone site can check any pasted document for mechanical and stylistic errors.
2) Hemingway
Hemingway is one of those easily-accessible marketing tools you can have open in your browser as you work. The site aids marketers in simplifying their writing. It does so by tracking your sentence length, use of passive voice, complicated words, and adverbs.
3) Check Plagiarism
Plagiarism is a bane on marketers. That's why you need a service like Check Plagiarism! You can paste up to 2,000 words that the site will then analyze and run against hundreds of sites.
Alternatively, you can add a URL, from which the service will check the first 2,000 words of. To optimize your result, you can add URLs to exclude from the search. This comes in handy if, for example, you're checking your own page for plagiarism.
Other popular tools
Outwrite, WordCounter, Readability Test Tool
Access a free, comprehensive content marketing course here.
Graphic designing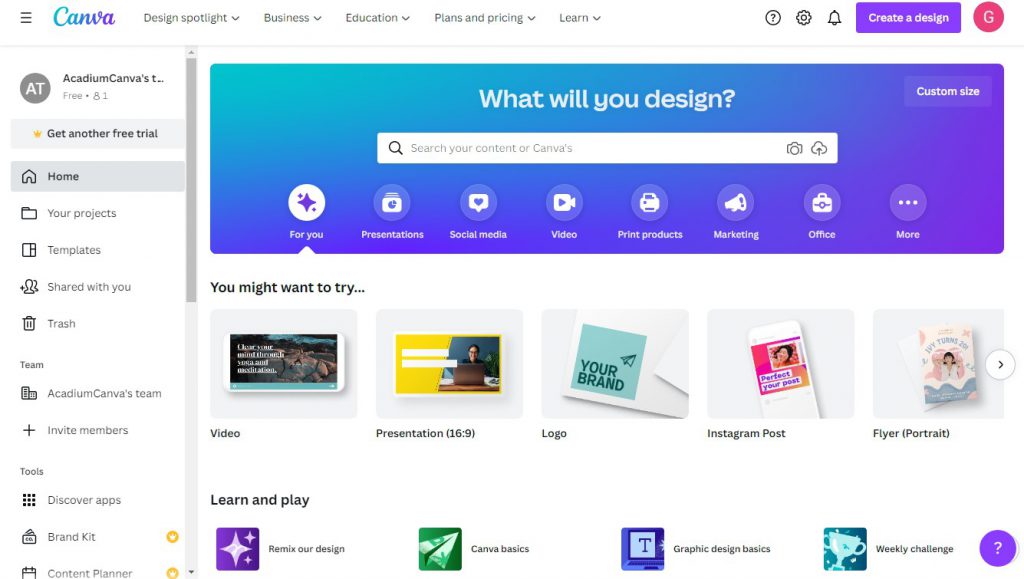 1) Canva
Canva is the ur-example for easy-to-make graphics and visual media. While it offers paid templates, the free assets are more than enough for blogs, social media, internal presentations, and more. The free version also features a free video editor that's enough for clipping short features for your sites.
2) Photopea
A completely free service, Photopea runs on donations alone. However, that doesn't stop this site from essentially functioning as a free alternative to Adobe Photoshop. Other than photo editing, the site can also be used for drawing, website design, illustration, and more.
Photopea also supports a variety of files. This includes PSD, JPEG, PNG, DNG, GIF, SVG, and PDF, among others.
3) DesignWizard
Beginner-friendly DesignWizard is an extremely simple design site that's best positioned for marketers who need quick, polished images. Their editor also makes it easy to resize images for various social media sites. Moreover, its use of the Pikwizard library cuts down on time spent looking for adequate stock photos.
Other popular tools
You might be interested to read: Get into Graphic Design without a Degree
Video creation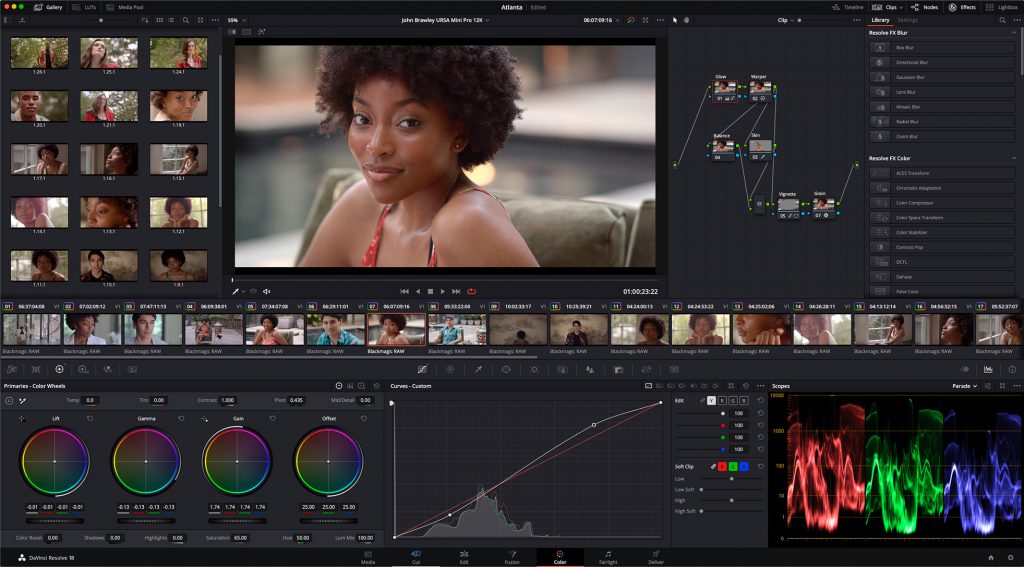 1) DaVinci Resolve
The professional version of DaVinci Resolve is used to edit blockbuster movies—which makes the fact that its basic version is completely free all the more outstanding.
DaVinci Resolve allows users to edit, trim, color grade and correct videos. Marketers can also use it to edit audio post-production, and add motion graphics and visual effects. Best of all, the basic version is free to use for life, and puts no watermarks on your output.
2) OpenShot
Because of its open-source nature, OpenShot is completely free for life.You can edit and produce videos sans watermarks, using advanced features usually found on paid software. A whole community also exists around it, meaning there's endless plugins that can help with your specific editing needs.
3) VSDC Video Editor
VSDC Video Editor is used by YouTubers, streamers, and freelance video editors. Why? VSDC's basic interface has everything they need to create good content. Its audio conversion is also great, not to mention that it also supports 4K UHD, 3D, and VR videos.
Other popular tools
You might be interested to read: YouTube Career: How to Become a YouTuber? (7 Steps, Skills, Tips, and More)
Project management tools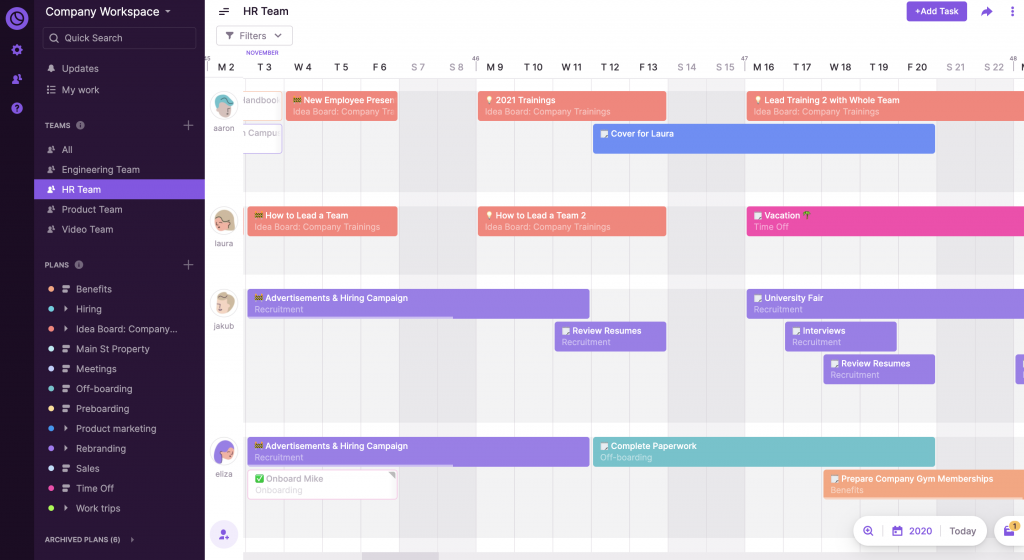 1) Toggl Plan
Toggle Plan visualizes the project management process, so your team has an even clearer picture of your goals. The main dashboard features interactive timelines that you can zoom in and out of. Each task or project also has its own card you can customize as much as possible.
Almost everything on your calendar can also be shared to clients. If that won't work for your set-up, you can bulk-export—import—output in a CSV format and share that too.
2) Airtable
Airtable's free version is bulky enough for small marketing teams to use with no issues. Your team can create an unlimited number of bases—a collection of related tables for projects, processes, and workflows. Teams can work on these bases and tables concurrently as well.
The free version also allows up to 2 gigs of attachments per base. You and your team can access these, and more, on web, desktop, iOS, and Android.
3) ClickUp
Free forever, ClickUp presents teams with unlimited task setting and membership count. Teams can find much use from its collaborative documents, real-time chat, kanban boards, and whiteboards. HR matters can also be settled in-program thanks to its native time tracking.
Other popular tools
Website analytics tools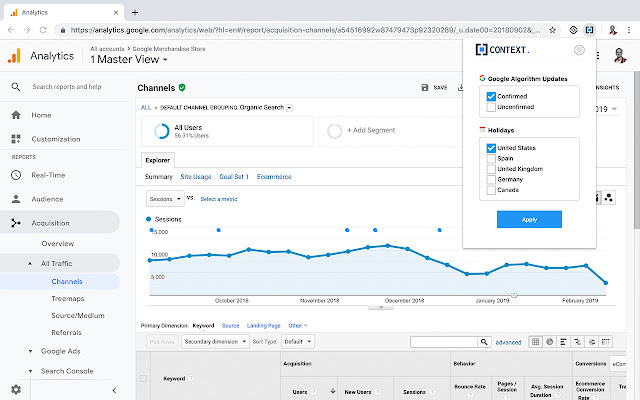 1) Google Analytics
Google Analytics is an indispensable marketing tool in a team's arsenal. For $0, you can measure your website's traffic, conversions, campaign and user activity, and SEO performance. You can track where your visitors are coming from, what source works best for you, and other data crucial for an optimized marketing strategy.
2) Open Web Analytics
Free and open source, Open Web Analytics lets teams run it under their domain to analyze their website. It's highly customizable, and can be used to track data on WordPress and Mediawiki-based sites. All data can be read through a highly visual dashboard, with options for segmented reports.
Open Web Analytics has a lot of notable features. You can access a heat map of where your users click the most, click-streams of anonymized user sessions, custom site actions, SEO term referrals, and more. You don't have to worry about your data being used without your knowledge either, thanks to its privacy controls.
3) Mixpanel
Mixpanel is nifty for marketing teams working with eCommerce arms. The site tracks in-app purchases and micro-transactions in addition to usual website data. Mixpanel's free version also tracks up to 100,000 unique visitors, giving your team enough data for user behavior reports.
Other popular tools
Access a free, comprehensive marketing analytics course here.
Search engine optimization (SEO) tools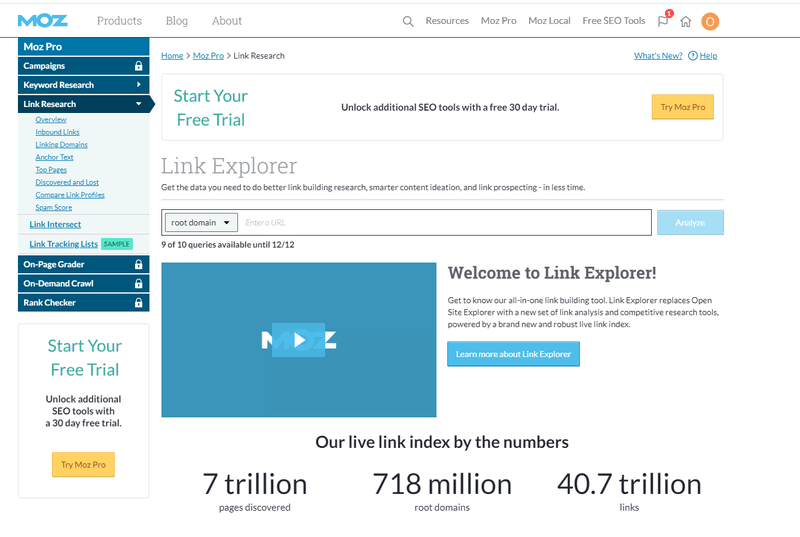 1) Link Explorer
Moz's Link Explorer lets you check the backlinks of any site by just pasting the URL into their search bar. Page authority, domain authority, inbound links, broken links, spam score, top performing content, and more are included in the report they'll generate for your link.
Link Explorer doubles as a competitor benchmarking tool this way. Moz even explicitly mentions this function on its page.You can even install their free Chrome extension for ease-of-use.
2) Ahrefs Keyword Generator
Ahrefs' free version of its robust keyword tool allows users to generate the top 100 terms related to their chosen keywords. The free version also lets you browse through the top 50 questions linked to those keywords. Your team can use this tool to find high volume, low difficulty keywords for your content.
3) Keyword Tool
Keyword Tool generates viable keywords across search platforms. The free version has a generous allotment of 750+ long-tail keyword suggestions per search term. You can also attune your keyword search to:
Google & Google Trends
Bing
Amazon
Ebay
App Store
Google Play
Instagram
Twitter
Pinterest
Other popular tools
Access a free, comprehensive SEO course here.
Social media marketing and management tools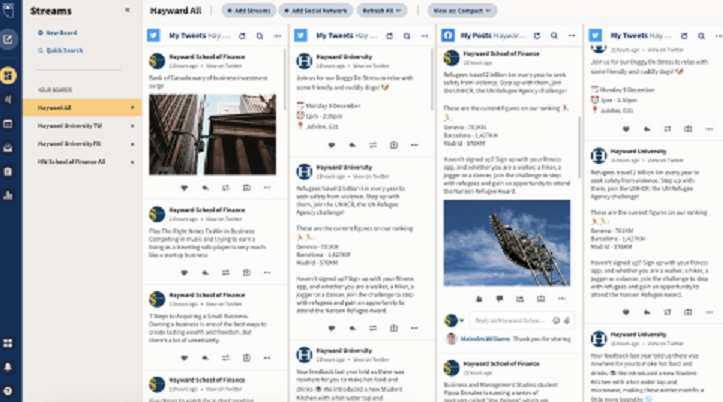 1) Hootsuite
Used by SMEs, university orgs, and large corporations alike, Hootsuite boasts a large suite of features right out of the box. It allows you to monitor multiple social channels, schedule posts, monitor private messages, analyze your results, and plan and syndicate your campaign from one dashboard.
2) Buffer
Buffer's free plan got, well, buffed in recent years to offer more options at zero cost. Your team can connect up to three social networks to a single free account. From there, you can schedule up to 10 posts per account, keep on top of mentions, hashtag suggestions, and integrate services such as Canva to manage and edit your media assets.
3) Planable
Planable is another platform that lets you do everything in one page. Free accounts can plan their social media calendar in a feed or calendar view, add up to five labels per campaign, topic, or content pill, and store up to 10GB in media. Plus, collaboration's made easier by its shared workplace and two-tiered approval workflows.
Other popular tools
Access a free, comprehensive social media marketing course here.
Customer Relationship Management (CRM) tools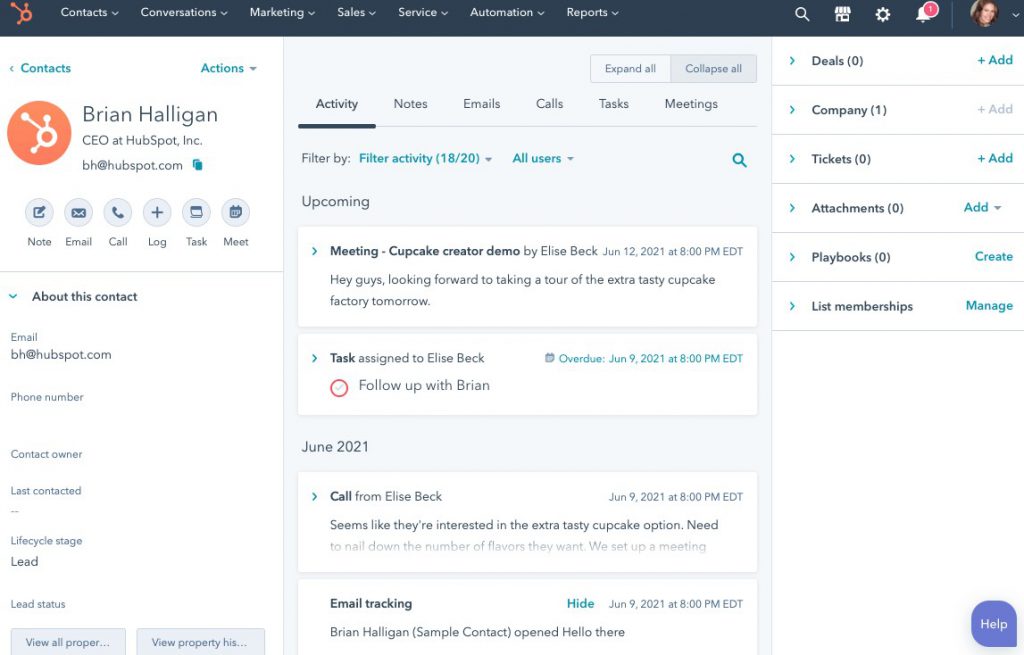 1) HubSpot CRM
Free and widely used, HubSpot CRM frees up time you would normally spend on reports. It does so by automating reports on your entire sales pipeline, and giving your team time-saving tools. Every report is detailed enough that you can asses team performance and growth opportunities from your dash.
2) Monday
Monday is favored by small businesses and conglomerates alike for its versatility. Users swear by its project management system along with its robust CRM features. And on the line of integration, Monday also features ad campaign management, bug tracking, and video production.
3) Zoho CRM
Zoho CRM has the tagline of "built for small teams with big dreams"—and its feature-rich, free software delivers. Your team gets the jump on lead and deal management, email marketing, analytics, lead generation, and client organization.
A bonus is its workflow automation process, which can handle sales routines as you nurture your customer relationships.
Other popular tools
Online presence & advertising tools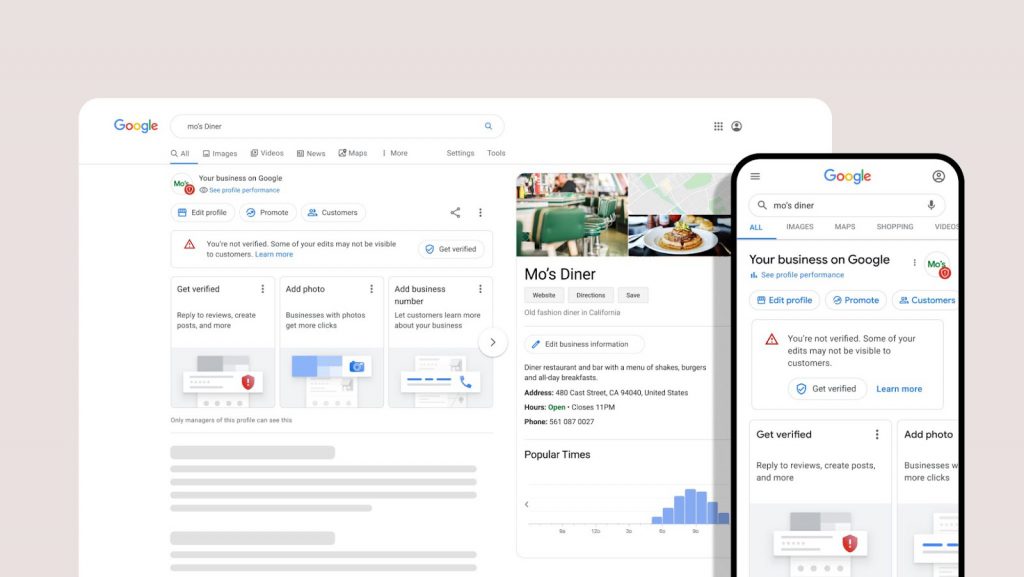 1) Google My Business
Google My Business helps businesses monitor their appearance on Google Search and Maps. What that means is your team can edit your company's information on its search page. You can also respond to reviews and queries, and discover how your customers interact with your business through this powerful search engine.
2) Wordstream
Wordstream has a number of free tools for budding marketing teams. Its Smart Ads Creator in particular allows you and your remote marketing team to create great-looking ads based on your objectives. Your get final say on the look of your HTML5 ad, which you can use for more affordable clicks.
Other popular tools
Access a free, comprehensive paid advertising course here.
Email marketing tools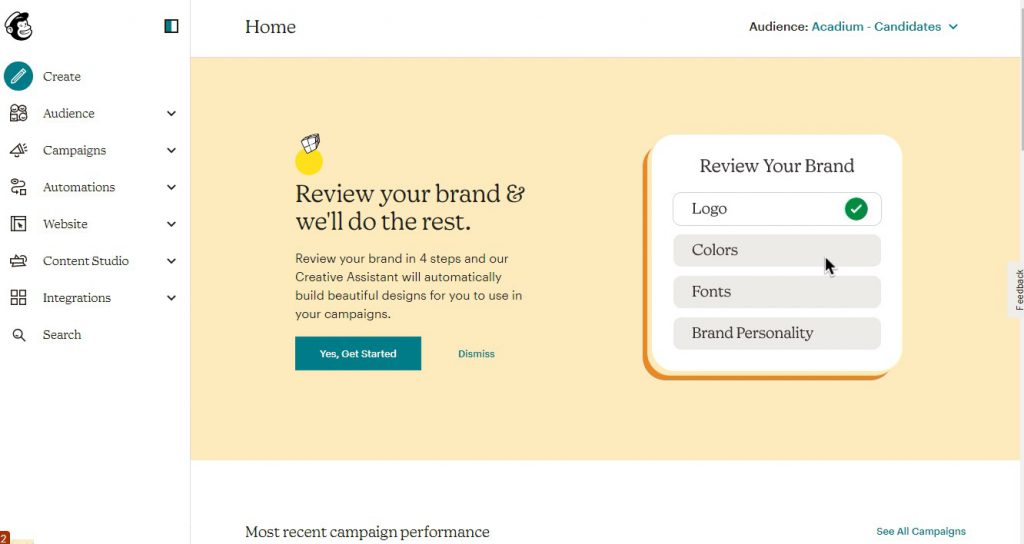 1) Mailchimp
Mailchimp's free account is ideal for small businesses. It has all of Mailchimp's email marketing features, website builder, forms and landing pages, and lets you send out 10,000 emails monthly. Your team also has access to its Creative Assistant, a feature that lets you build professional-looking emails.
2) Sender
Sender lets you send up to 15,000 emails a month to as much as 2,500 subscribers for free. All of your emails might have Sender branding, but you can automate them to cut down on the time you spend on sending out emails. Data from your campaigns can be tracked on Google Analytics as well.
3) Convertkit
Convertkit works best for businesses with up to 300 email subscribers. Free accounts have access to an unlimited number of landing pages and forms. They can also send out email broadcasts, sell digital products and subscriptions, customize their domain, and receive detailed reports about their email campaigns.
Other popular tools
Access a free, comprehensive email marketing course here.
Competitor benchmarking tools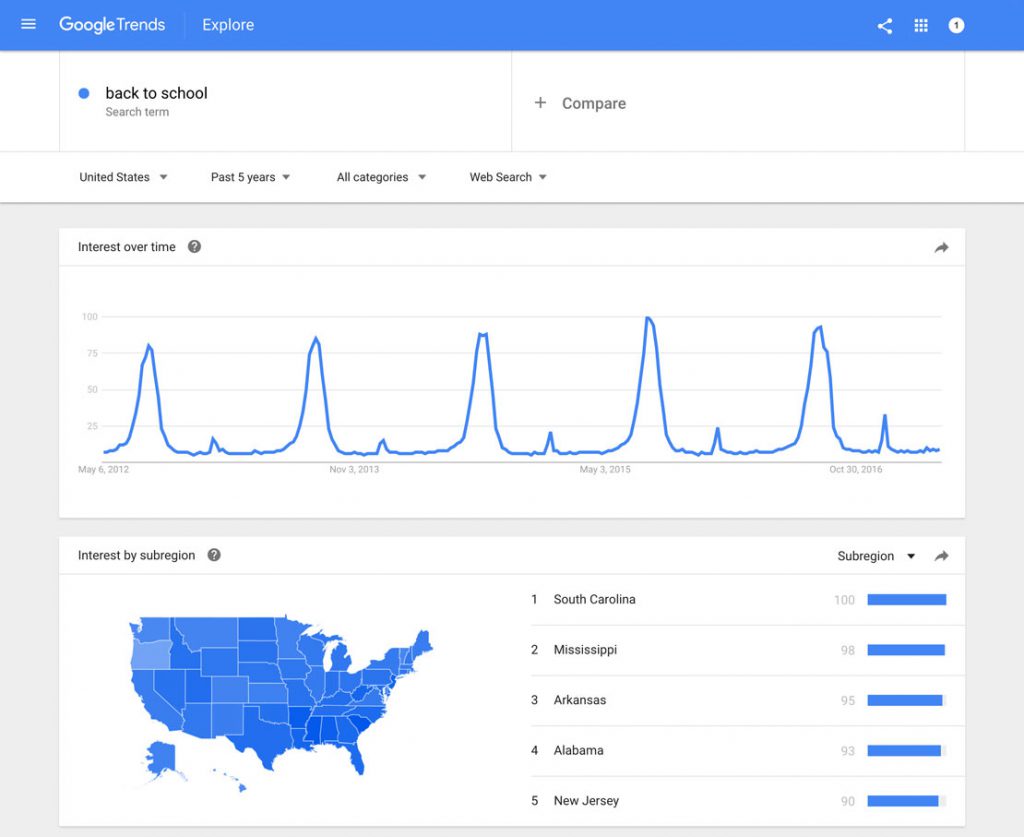 1) Google Trends
Search a topic on Google Trends, and you'll immediately get its total search interest over time, per country. Google also breaks down interest in the term or topic per region. Finally, it offers related topics and queries that you can incorporate into your SEO strategy.
2) Similar Web
Installing Similar Web on your browser lets you check any website's authority instantaneously. The pop-up display on your browser shows a page's global, country, and category rank, monthly traffic, visits over time, traffic source, and country source, among others. Similar Web also offers a more detailed report on its main site.
3) UberSuggest
Doubling as a reliable SEO keyword generator, Ubersuggest gives insights on your competitor's strategy. Plug in your competitor's—or even your own—URL into Ubersuggest to check out their organic and paid traffic volume over four months, backlinks, domain authority, and top SEO pages.
Other popular tools
BuzzSumo, Moz free SEO checker
Learn how to use these tools while gaining work experience
Gaining work experience, and learning how to use all the tools related to it, is a tall order. Ludovica faced this exact problem on top of migrating from Milan to Vancouver. Her journey into a real career in marketing began with an apprenticeship.
Ludovica worked with three marketing professionals and learned the intricacies of a digital marketing job. She learned content marketing, social media marketing, email marketing, and how to create marketing strategies in 90 days. And because of that, she was able to transition into a full-time digital marketing career, and save her visa.
Interested? Sign-up for an apprenticeship here.
Not ready yet? Explore our other posts on marketing tools in the meantime:
Five years in journalism, two in proofreading, and eight in freelance ghostwriting. Creating content that's entertaining, informative, and actionable shapes my writing. When not scrutinizing my copy, I'm likely watching hockey.
Top Marketing Webinars for Digital Marketers in 2023

By attending these webinars, you will have the opportunity to learn from industry leaders, gain insider knowledge, and stay ahead of the competition.

9 Types of Digital Marketing to Choose From in 2023

Digital marketing is a dynamic field that offers diverse career opportunities. From search engine optimization to social media marketing, there are many specializations to explore. Whether you're just starting out or looking to switch careers, this guide will help you find your ideal digital marketing niche.


Subscribe to our newsletter for digital marketing resources
Become a better marketer with our digital marketing resources and tips shared weekly in your inbox.

Build your marketing career for free or find marketing talent on any budget — fully remote.