Get into Graphic Design without a Degree
It feels intimidating to get into graphic design without a degree. How do you build your resume when most opportunities require previous work experience? Scroll down and learn how you can start, and build experience in, this in-demand field.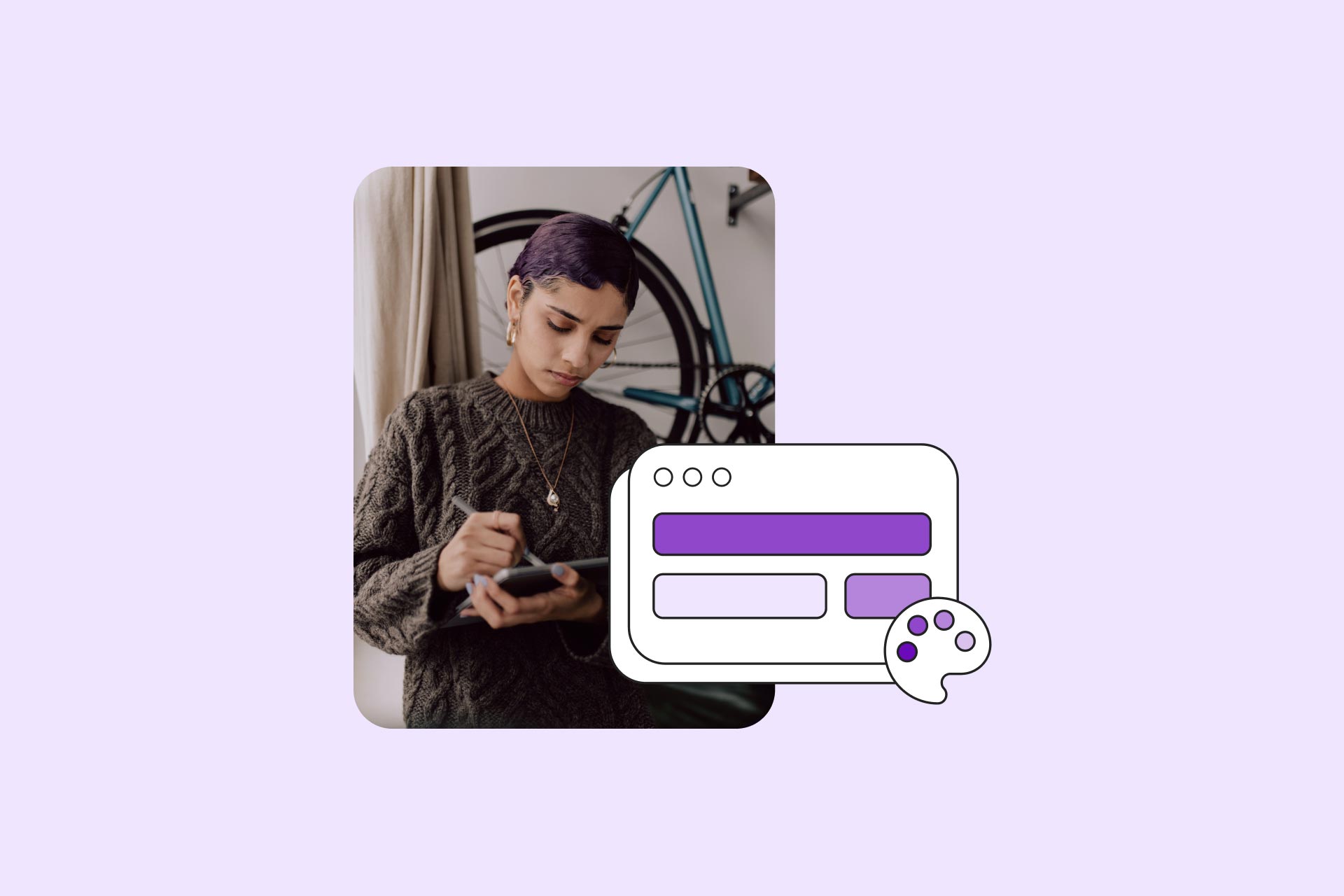 When people look up how to get into graphic design without a degree, they're usually worried about two things: They're afraid their lack of a design degree will scare off clients, or their lack of professional experience will make them a hard hire. But what if I told you employers—particularly those in marketing—are willing to hire you as long as your design can communicate their message and help solve their audience's problems?
Read on to learn how to take advantage of this demand. But if you want another proactive way to get into graphic design without a degree, sign up for an Acadium apprenticeship. You can sharpen your skills on real-life marketing projects by the mentor we'll match to you.
As a result, you'll grow your portfolio and develop the necessary skill sets for your trade. What's more, you'll gain social proof—testimonials attesting to the value of your work. On top of that, you'll walk away with marketing skills essential to the practical side of your career, and learn what clients want out of graphic designers.
Acadium Apprenticeships
Gain marketing experience
Work with a mentor for 3 months and learn about digital marketing on top of building the work experience you need to get hired. 100% remote and always free.
So, ready to find out how to get into graphic design without no experience? Let's find the answer to this and the following questions to help you get started:
How do I prepare for work?
Where can I find clients?
How do I get experience?
Before figuring out how to find graphic design clients, you need to prepare for the process of finding work.
How do I prepare for work as a graphic designer?
One of our most popular posts on Acadium revolves around landing a job after college with no experience.
As for why—you and your fellow job seekers likely want to know the best way to land your first jobs. In the same fashion, you're looking up similar articles if you have work experience, but none in graphic design. In either case, you face a Catch 22: you need to engage with graphic design clients to start a record, but you need a background in the field to get offers in the first place.
So how can you, as someone who wants to get into graphic design without a degree, go beyond reading and start doing? You need to start with a few fundamentals.
These fundamentals start with a professional resume or CV and portfolio. Aside from that, you need at least a rudimentary knowledge of industry-standard programs. And don't worry—there are alternatives if you need more affordable or free options.
While you get these going, you also need to start networking. Networking helps you find opportunities, and establish a professional support system. Then, take stock of what business and self-management skills you have. You need these to achieve goals, improve your employability, and advance your career.
Resume and portfolio: What should I put in?
Your resume and portfolio should work in-sync to promote your most invaluable asset—you!
Effective resumes and portfolios record your accomplishments and show how you achieved them. Resumes are summarizations of your work history and highlights. Portfolios showcase the skills and results of what you've written on your resume.
Above all, both must be attention-grabbing. You may even want to consider a video resume, as it shows you're proactive in building new connections and learning new skills, like video editing. And for your portfolio, you'll want to place it on popular portfolio sites or even a standalone site focused on your work.
Standout resumes
Your resume or CV must stand out, because you have six to seven seconds to catch a potential employer's eye. You can leave an impression with a visually stunning resume that demonstrates your proficiency in design. And depending on how you make it, you're showing that you have relevant skills, such as UX/UI and web design, to name a few.
But you can't just design your resume willy-nilly. You have to note how your resume is read. Chunking or breaking up the text helps readers scan your resume for keywords, such as experience relevant to the job posting or project, or your most recent role. And you can't just divide text into blocks—you have to lead the reader's eyes with an easy-to-follow flow.
Impressive portfolios
In a similar thread, you must curate your portfolio. Your portfolio is the likely deal-maker or deal-breaker for your target client or employer. It flexes your creativity, what skills you have to offer, the kind of work you're proud of, and what type of task you're most passionate about.
Your curation must also prove your attention to detail and ability to self-edit. By that, we mean your portfolio should show that you've read the job description. You should pick pieces that argue your capabilities to fill the vacancy, and not only what looks pretty.
Finally, your portfolio ought to communicate your creative and thought processes. Your arrangement and labeling of pieces is a way to present how you think about design, and how you work around that understanding. And while you can answer any questions about any of the pieces in it, all the relevant, basic information about the content should be attached.
Networking: Whom should I reach out to?
You can't expect results if you don't, at the very least, know the basics of networking. Graphic designers and other creatives in particular need leads for high-paying, challenging work or openings. But why exactly is networking important?
Networking is a great resource for finding new opportunities. Your contacts can uncover leads you may not have found on your own. They may also provide you with resources in fields you have no knowledge of. Your network will also act as a support system for feedback, professional development, and career advancement.
However, you have to keep in mind that building a network starts with empathy. Your network comprises other people, not merely dispensers of feedback and leads. Consideration for others and gratitude—in this case, returning the favor and thanking contacts for opportunities—are part of the game.
According to Harvard Business Review, there are three forms of networking:
Operational
Personal
Strategic
Operational and personal networking
Operational networking emphasizes relationships within an organization. Your co-workers and people necessary for business operations fall under this scope. It makes sense: if you communicate and trust people in this network well, you minimize blind spots that can detract from your work.
Your personal network, in contrast, refers to your links outside your immediate organization. Your acquaintances in hobby groups, school alumni groups, professional associations, and similar communities count. This circle of casual connections can offer insight and development you can't find at work.
For instance, someone in your personal network can offer their services as an impartial arbiter in your organization. You can also find a mentor who will coach you to network effectively and give a fresh perspective on problems that have you stumped.
Strategic networking
Lastly, you must think strategically when building your networks. After all, you have limited energy and time to create and maintain connections. So you must proactively build relationships with individuals who share your goals and have the determination and skills to achieve them.
As a new graphic designer, a good example of this is linking with a copywriter and UX/UI designer to create portfolio pieces. You offer information, leads, or even simple but free assets to spark a conversation. Once you foster that relationship, you can work in hints that you'd like to collaborate with them for a piece.
One other way that strategic networking can benefit you is that you may get information ahead of others. To go back to the previous example, your new contacts may mention a client or company in need of a graphic designer. You can get ahead of the competition by asking for an introduction before these businesses post a notice.
You need to remember that, when breaking the ice with a new contact, you should avoid asking outright for favors. What you can do instead is to give them leads and information first, and without expecting anything in return. On top of building goodwill, you're showing that you're willing to do the work to maintain this professional relationship.
When your contact does return the favor, don't forget to follow-up! Say thanks, and keep up the maintenance on this connection.
Programs: Which programs should I learn?
You still need to know what you are doing to pay off any opportunities that come from networking. A surefire way is to learn industry-standard software used across industries that need your services.
Your must-learn program is Adobe's creative suite. Their suite has extensive documentation, tutorials, cross-app integration, and synergy with different programs. In other words, it is easy to use and is generally the first option for businesses for graphic design.
But if you're intimidated by the price tag, here are free and affordable alternatives to Adobe's creative suite:
Raster graphics editor: Affinity Photo, GIMP, Pixlr
Vector graphics editor: Inkscape, Vectr, Boxy SVG
Typesetting and desktop publishing software: Scribus, DesignCap, VistaCreate
Raster graphics editor
Affinity Photo and GIMP are cross-platform alternatives to Photoshop that also offer image and raster graphic editing out of the box. Affinity Photo is free for 90 days, while GIMP is free—period. Pixlr is also free, but is accessible through browsers.
You may want Affinity Photo if you prefer an easy-to-use, neat interface. GIMP offers free plugins that expand its functionality. Pixlr is, as you can guess, accessible on any platform with an internet-capable browser.
Vector graphics editor
Inkscape, Vectr, and Boxy SVG are all free programs, with the latter two usable on any browser. All three programs boast user-friendly interfaces capable of producing professional-quality vector graphics. What makes them different are their main features: Inkscape supports multiple formats and sharing methods, Vectr is available on smartphones, and Boxy SVG specializes in editing SVG files.
Typesetting and desktop publishing software
Free and open-source, Scribus is specifically created for layout, typesetting, and preparing documents for image-setting equipment. DesignCap and VistaCreate are both free graphic design platforms that have publishing capabilities. DesignCap in particular has options for print, while VistaCreate focuses on content for social media and online platforms.
Personal skills: What do I need to know as a new professional?
As a new professional, you need personal management skills. This applies to both freelance and employed graphic designers.
These skills include:
Financial management
Project planning and management
Negotiation
Self-promotion
Your financial management skills are crucial to your success. Even if you have a constant source of income, you need to know how to budget. Budgeting allows you to be flexible in your living and working situations and gives you control over your finances. Freelancers especially need to be sensible about their money. They have to pay benefits and taxes on their own, and need a safety net for periods where they have a low volume of work.
New designers also need to organize their projects. In doing so, you can optimize your schedule and leave time for more projects or leisure. Negotiation helps, as you can bargain for better deadlines, budgets, and other aspects of a project.
And as with networking, you need to keep your name and work on people's minds. Self-promotion means keeping your portfolio fresh, engaging with your potential audience or clients, and hustling for opportunities.
You also need to develop a drive for self-improvement. Pick up some courses to refresh your skills and gain new ones that will further your career.
Where can I find clients?
Your next step after making plans is to figure out how and where to find graphic design clients.
Family, friends, acquaintances
Your most secure option is to start small. Look for family, friends, or acquaintances who need—or know someone who needs—help with graphic design. The barrier for entry here is lower since you have a previous relationship to fall back on.
But like your business contacts, you should show consideration your contacts. Foster a working relationship with your contacts instead of treating them as a means to an end. You have a connection outside of work, so don't let your career sour it.
Professional network
This is where networking comes in.
Your connections with other designers and professionals can, as we've emphasized, lead to opportunities. Experts advise inquiring about opportunities or asking for guidance, rather than asking for placement outright. You're appealing to your contact's expertise, receiving valuable information on the job market, and opening up the way to a live job lead.
Freelance platforms
You can supplement this experience with work from freelancing platforms. Some platforms are friendlier to new freelancers than others, and some have more openings for graphic designers. As you gain experience, you'll want to look for other platforms with clients that will pay more for your help. You may even be interested in portals that eliminate the tedium of matching with clients.
Research carefully, as some services cater to specific industries, while others have clients who close jobs without replying to anyone. Try to find a service that matches you with clients who want your skills and are willing to meet your rates. You can focus on the design aspect of your work if you leave the client search to a reliable freelance platform.
Having real-world experience helps in case you want to find something more permanent.
How do I get more real-world experience?
Acquiring work experience that gets you hired may seem intimidating, but it doesn't have to be.
Take it from Magda Desir, a self-starter who—like you—looked for ways to land a job without a degree for it. She expanded the experience and skills she needed for employment by completing apprenticeships on Acadium.
You can gain relevant experience and references by signing up like Magda and other apprentices. Besides graphic design, you'll learn other marketable skills in three months, for ten hours a week. Your mentor will also provide feedback. You can put these reviews in your portfolio as proof that your skills are valuable and transferable.
Plus, you'll likely have access to programs that your mentor uses for their business. That means you'll have a chance to learn apps that are previously inaccessible due to financial constraints.
Acadium mentors are, in fact, looking for graphic designers who can level up their businesses. They're also seeking creators who can help them with social media, general content, and video production.
Who knows—your mentor may even hire you, like David Jenyns and Meredith Garritsen did with their apprentices. What's for certain is you'll walk away with the skills to avoid feast-or-famine cycles and keep your projects going.
Five years in journalism, two in proofreading, and eight in freelance ghostwriting. Creating content that's entertaining, informative, and actionable shapes my writing. When not scrutinizing my copy, I'm likely watching hockey.
Top Marketing Webinars for Digital Marketers in 2023

By attending these webinars, you will have the opportunity to learn from industry leaders, gain insider knowledge, and stay ahead of the competition.

9 Types of Digital Marketing to Choose From in 2023

Digital marketing is a dynamic field that offers diverse career opportunities. From search engine optimization to social media marketing, there are many specializations to explore. Whether you're just starting out or looking to switch careers, this guide will help you find your ideal digital marketing niche.


Subscribe to our newsletter for digital marketing resources
Become a better marketer with our digital marketing resources and tips shared weekly in your inbox.

Build your marketing career for free or find marketing talent on any budget — fully remote.