How to Become an SEO Specialist: A Complete Guide + Tools
An SEO specialist ensures a business is on top of search rankings. But what makes them different from a regular marketer? Discover what sets SEO specialists apart from other marketers, and how you can become one.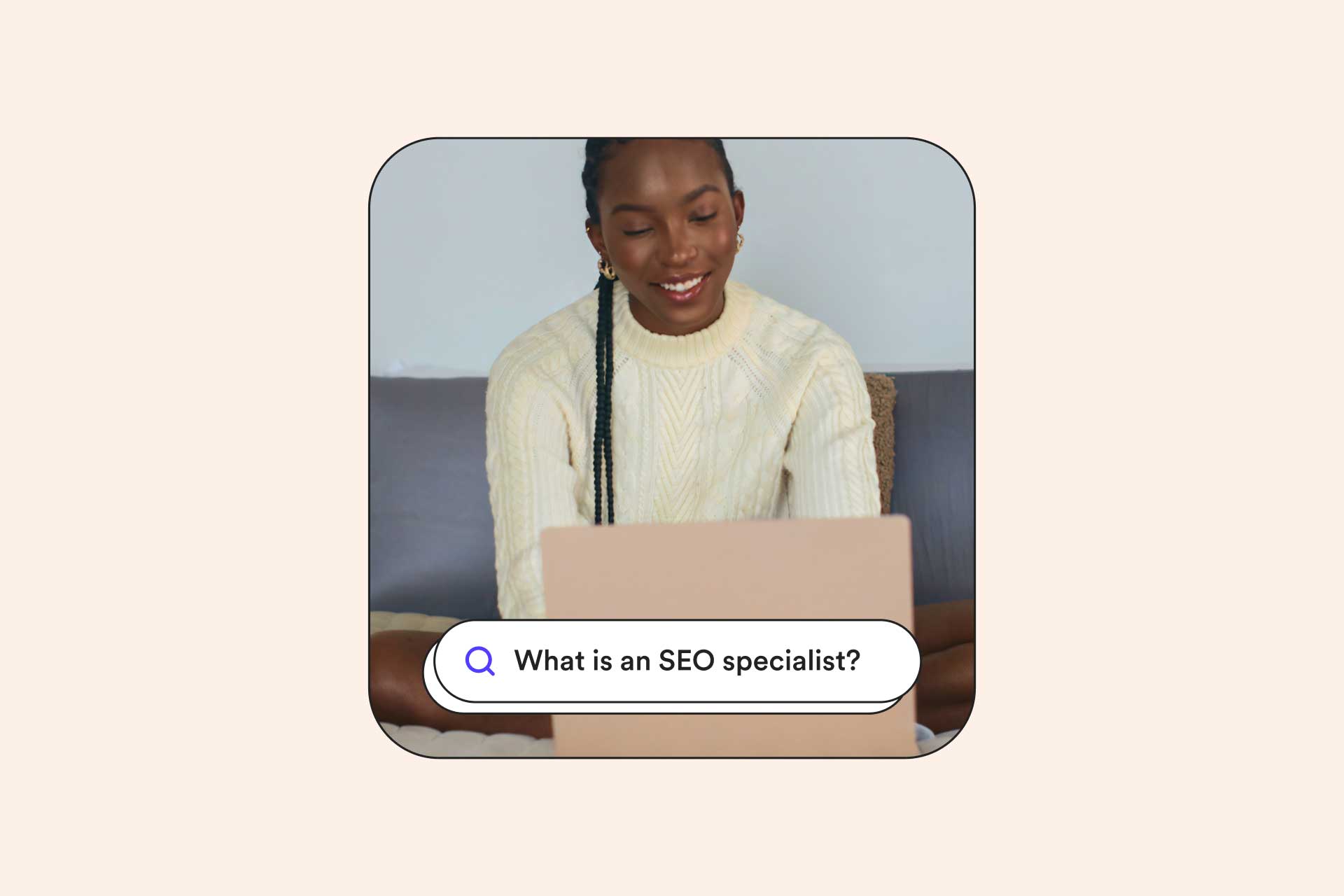 When businesses tank in search results, an SEO specialist becomes a must-hire.
An SEO specialist or SEO expert audits websites and implements strategies to optimize them for search engines. They do this partly by analyzing their site performance and tracking changes to search engine algorithms to determine the best way to make their site more visible.
Find out more about what an SEO specialist does, and the skills they posses to do their job, below. Interested in becoming one? You'll find a section that details steps you can take, too.
One of the steps we recommend is taking on an apprenticeship. Through apprenticeships, you learn SEO by applying SEO techniques in a real-world business under the guidance of an expert mentor.
Acadium Apprenticeships
Gain SEO experience
Work with a mentor for 3 months and gain the SEO experience you need to get hired. 100% remote and always free.
The first thing budding marketers learn in apprenticeships is what SEO is and how it works.
What is SEO and how does it work?
Put into simple terms, search engine optimization or SEO is the process of improving a business' searchability to direct free, organic traffic to their website.
SEO helps websites become more visible in search engine result pages (SERPs) when people search for certain keywords. It helps bring the brand, products, or services to the attention of target audiences.
When a website is SEO-optimized, it means search engines identify the site as having the most accurate and related information or content to a search query and the searcher's intent.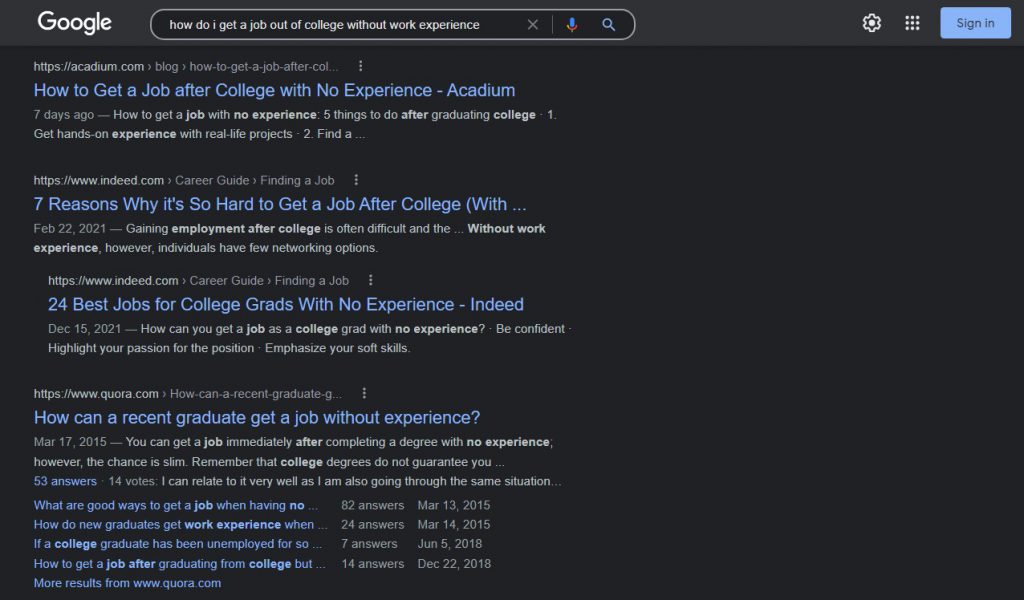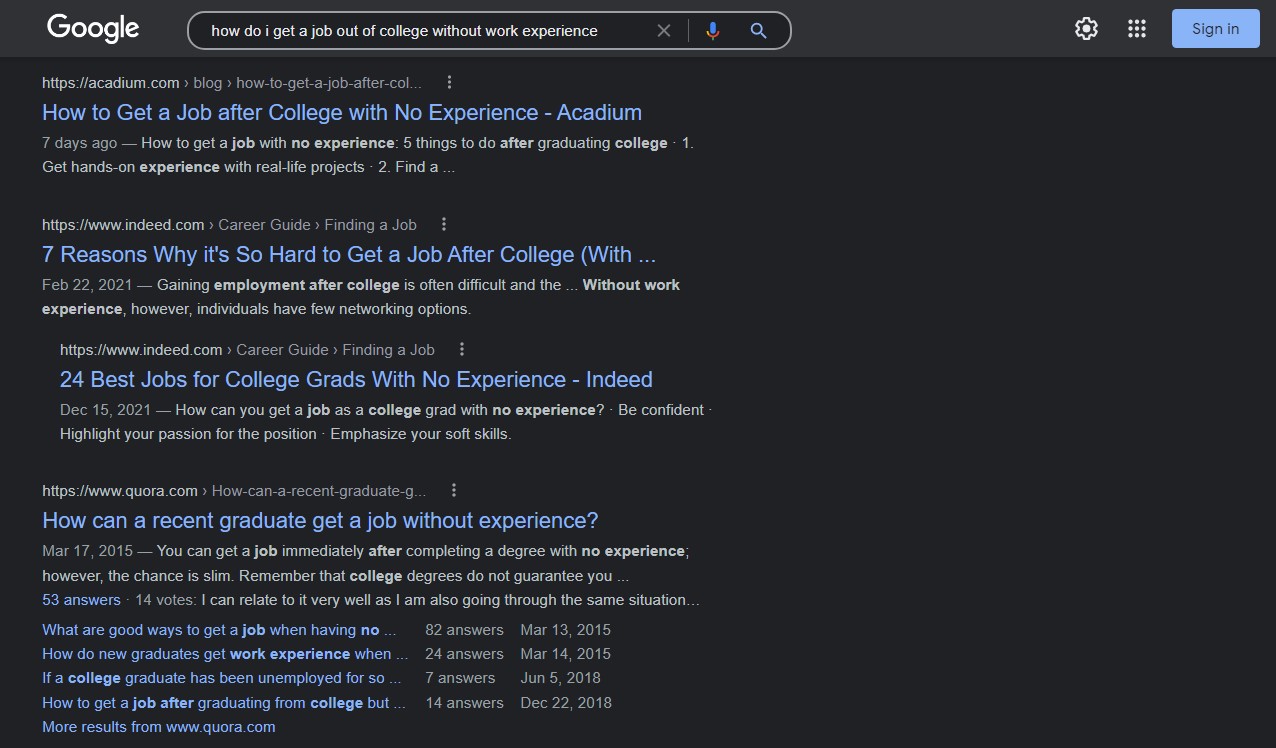 In the screenshot above, you can see that Acadium's How to Get a Job after College with No Experience post ranked first for the keywords "how do I get a job after college without work experience".
The post follows the searcher's intent to learn how they can gain employment without prior work experience right out of college.
It's also full of relevant terms and information related to searches related to the main keywords. Plus, the blog includes related posts that Google has crawled and indexed, or gathered information about, and figured into the post's ranking.
Now that we've defined SEO, let's learn what an SEO expert is.
What is an SEO specialist (or SEO expert)?
Since the first page is where 95% of all search traffic comes from, businesses of all sizes—even 74% of small-to-midsized businesses—want a good SEO specialist to take them there.
An SEO specialist makes this possible.
They create strategies adjusted to the latest changes in search engine algorithms to improve a website's rankings.
An SEO expert also focuses on positive user experience. Google's recent changes reward content that addresses user needs. In other words, SEO experts don't stuff keywords in their content—they use the right keywords that not only puts the brand in front of the target audience, but also in line with the user search intent.
You'll learn more about search intent below, where you'll also learn what an SEO specialist does for businesses and clients.
What does an SEO specialist do?
Keyword research
Content strategy
Paid search campaign
Website optimization
Collaborate with teams
Understanding algorithms
Review performance
1. Keyword research
SEO specialists improve SERP results through research, strategy, and search intent.
Figuring out search intent is essential as it affects what keywords are used for content. SEO specialists generally sort intent into four types: informational, navigational, transactional, and commercial. From there, they have a basis for their content strategy, or how they can improve existing pages.
2. Content strategy
Content strategy is the big-picture, long-term plan that an SEO expert creates from their research. In terms of SEO, this means coming up with topics that satisfy user intent, conducting keyword research for those topics, and putting these together as content.
This also covers the method of distributing content to target audiences, promoting it, and evaluating that piece of content's effectiveness. Lastly, SEO experts ensure this process is repeatable, with improvements based on results.
3. Paid search campaign
When you work as an SEO specialist, you'll also be in charge of paid search campaigns. Paid search or pay-per-click involves bidding on keywords to put a business' page as an ad on top of SERPs. While it won't help a site's SEO rankings, it displays websites to potential customers looking for solutions these businesses offer.
An SEO specialist has to manage the campaign budget, decide which pages goes on ads, and which keywords to target. They also track what keywords create conversions, so they can feed this information back into SEO strategies.
4. Website optimization
Part of an SEO expert's tasks is to report their findings on campaign performances, competitor sites, and latest SEO developments to their client or employer. In the process, they make recommendations based on their findings, business goals, budget, and user feedback and need.
5. Collaborate with teams
These reports go to teams SEO specialists work with to achieve business goals. Depending on a business' structure, the SEO specialist can have separate duties from content writers. If that's the case, content writers are one of the first team members an SEO expert must connect with.
Aside from content writers, an SEO expert works with digital marketing, social media marketing, and email marketing teams. They also touch base with web developers, customer service, copywriting, design, and sales, as they're also affected by changes to a business' site.
6. Understanding algorithms
Semrush notes that Google changes its algorithm "thousands of times every year". Core updates in particular can change a site's rankings dramatically. SEO experts keep an eye on these to study what changed, and how they can use these changes to keep their site competitive.
7. Review performance
You can't just make content or implement changes without keeping track of the results. SEO specialists observe, record, and create reports on these results by using multiple tools. This can tell them what campaigns or keywords work, the number of visitors to a piece of content, and other metrics a business might want to see, or an SEO specialist finds useful.
SEO Skills: 10 skills to get hired as an SEO specialist
An SEO expert needs to understand and develop these skills to earn their title.
On-page SEO
Off-page SEO
Technical SEO
Link building
Keyword research
Content creation & content marketing
Analytics
Web coding
Decision making
Project management
1. On-page SEO
On-page SEO, or on-site SEO, refers to optimizing visible content and HTML code of a web page to rank higher on, and increase organic traffic from, search engines. This practice involves tweaking content on your site, optimizing headline tags, title and meta tags, interlinking, and more.
2. Off-page SEO
Off-page SEO, or off-site SEO, deals with everything done outside your page to improve SERP rankings. This can mean link building (more on that later), social media, content marketing, reviews, and any off-site efforts to build the authority and credibility of your site.
3. Technical SEO
Remember when you read about SEO specialists working with web devs? This is where technical SEO comes in.
Technical SEO is all the work that goes on behind the scenes to make your site easier for search engines to crawl and index. To do that—and improve a site's organic traffic—SEO experts find ways to increase site speed, remove dead links and duplicate content, ensure pages are secure, and structure data
You'll learn more about the tools you can use to do technical SEO in a later section.
4. Link building
The goal of link building is to increase the number of backlinks to your website from other websites. By building a hefty number of quality inbound links, you're sending a signal to search engines that your site is also high-quality, and should rank better.
5. Keyword research
Google has over 200 ranking factors for its search algorithm. Keyword use is involved in many factors, including its use in title tags, description tags, H1 to H3 tags, keyword prominence, and so on.
SEO specialists take advantage of this by finding keywords that have high volume, but low competition. This way, they can create content that will rank well. And they keep search intent and their businesses' branding in mind when they research, to drive the kind of traffic that gives a good ROI to their site.
6. Content creation & content marketing
Content marketing focuses on the creation of blogs, videos, infographics, podcasts, and other forms of content to stoke interest in the products and services of a brand. SEO experts optimize this content for maximum searchability and relevance for the audience they're trying to reach.
7. Analytics
Analysis is key for an SEO specialist. They must study, analyze, and deliberate on the data they gather from their site, competitors, and current market trends to make strategic decisions for the growth of their site.
8. Web coding
While SEO doesn't typically need hands-on coding, having knowledge of programming languages can help. You can more accurately estimate the lead time a web dev team will need to make any changes you ask for, and provide technical SEO service better.
9. Decision making
As you may have guessed, the decision making skills of an SEO expert can make or break a site. They need to make a decision, and identify alternatives, based on all the information they have on hand, the needs of stakeholders—such as user feedback and business goals—, and other relevant information.
10. Project management
You may be able to create a good content strategy, but can you manage multiple projects at once?
Project management involves organizing resources and people to reach a goal. In an SEO specialist's case, that's coordinating with teams to make sure every campaign related to SEO is delivered on time, and achieves what they set out to accomplish.
How to become an SEO specialist
1. Courses
Resources such as free courses are a good first step towards building a solid SEO background. These courses teach basics and allow you to build a great portfolio and gain credibility through reviews. Plus, some courses give you a certificate to show your knowledge level.
2. Work experience
Another way to become an SEO specialist is to gain knowledge through work experience. Entry-level marketing work typically requires SEO, which you can learn on the side and apply in your work.
Problem is, most jobs want proof that you have at least basic SEO knowledge. Courses that set you up with real marketing tasks will give you that elusive work experience before getting clients or employment. But what if you want more?
3. Certifications
Certifications show that you have advanced knowledge of SEO topics. You've learned proven techniques and deepened your understanding of how to use SEO properly.
However, not all certifications are built equally. Some are merely longer courses that don't offer any form of guidance except for help articles and the occasional support chat. Others don't prepare you to apply what you've learned in real-world settings.
So what's an option that will give you SEO knowledge and practical experience?
4. Apprenticeship
An apprenticeship is both a learning opportunity and a training process. In an apprenticeship, you're learning SEO by doing tasks that professionals do on a daily basis. You're not doing it blindly either, as your expert mentor will provide valuable feedback and guidance.
Unlike in an internship, all your work is focused on learning practical SEO skills. By the end of your apprenticeship, you'll have a certificate and a letter of recommendation from your mentor to help you start your career.
SEO specialist salary
The average SEO specialist salary depends where you're located, and how many years of experience you have.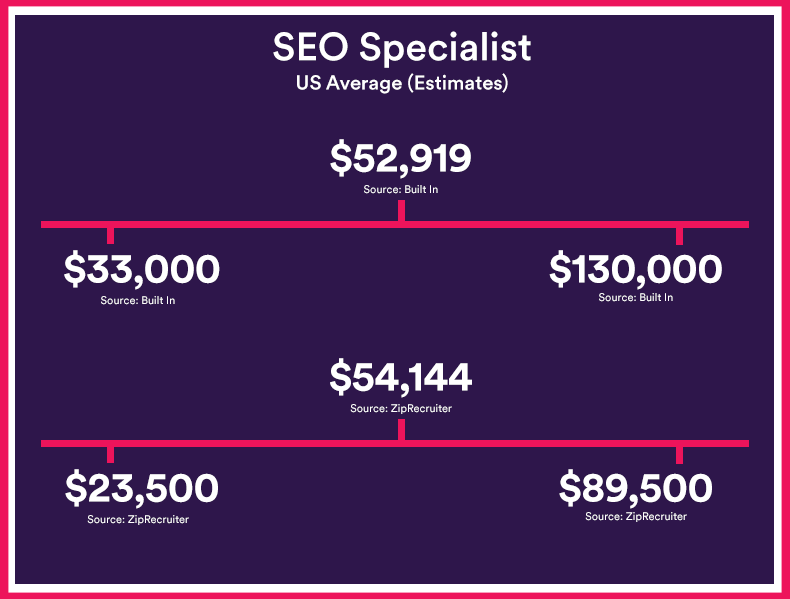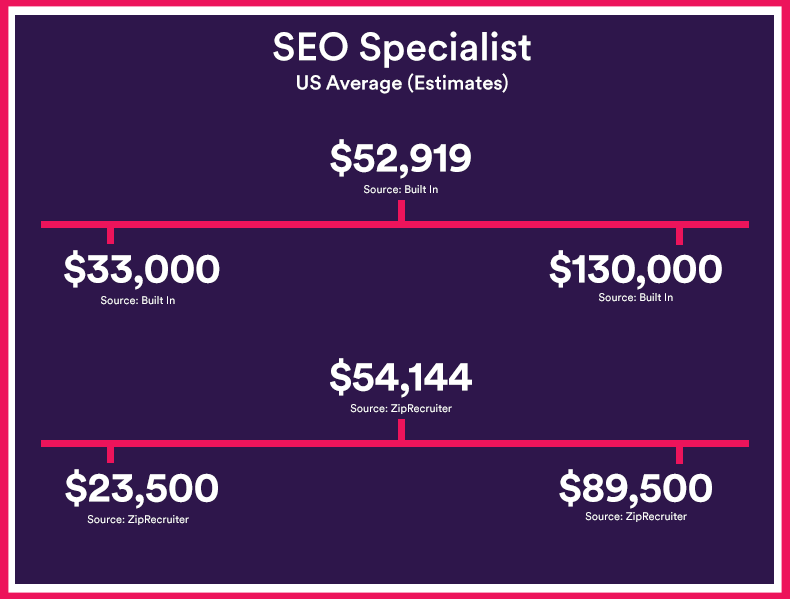 Tech job portal Built In reports an average base salary of $52,919 for US-based SEO specialists, with the lowest salaries dipping to $33,000 and the highest earners taking home up to $130,000.
ZipRecruiter estimates a higher average of $54,144, but a lower entry-level salary of $23,500 and high-end of $89,500.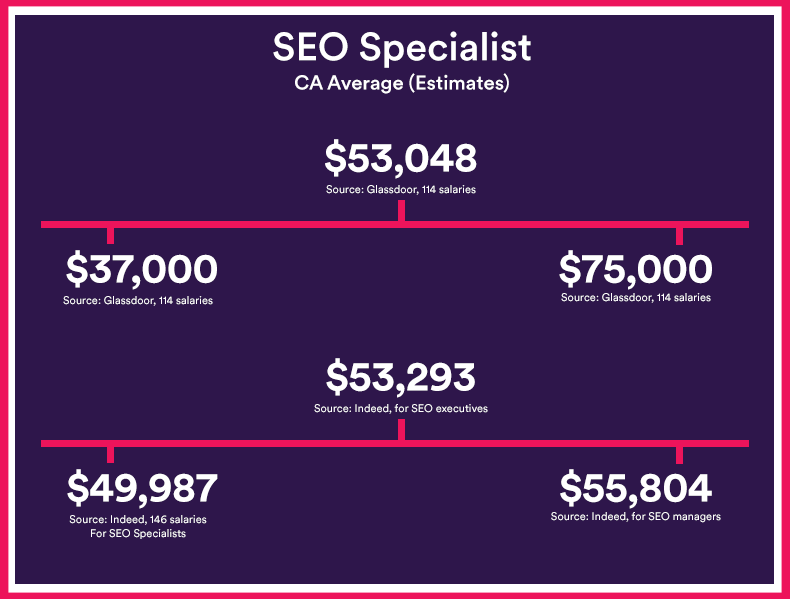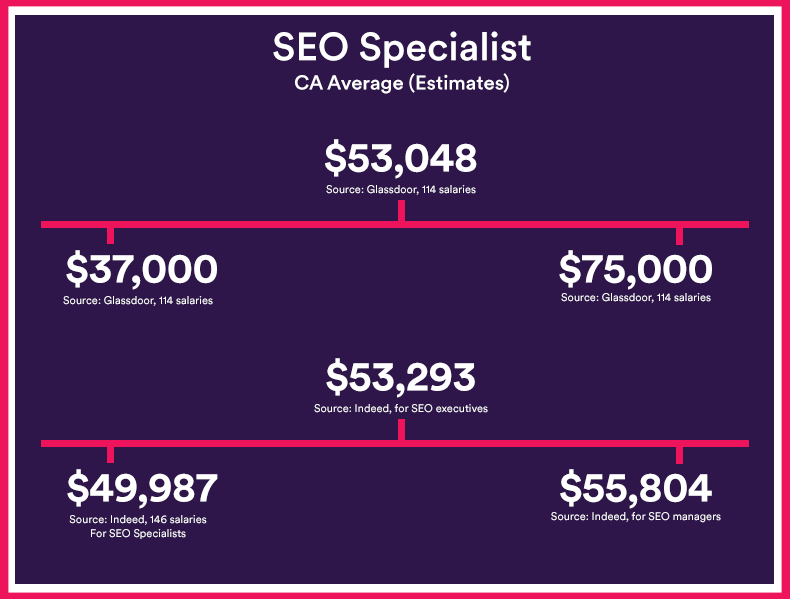 Canada-based SEO experts, according to 114 salaries reported to Glassdoor, earn an average base pay of $53,048. Entry-level specialists earn around $37,000, and experienced experts hit a high of $75,000.
Meanwhile, 146 salaries reported to Indeed note a median salary of $49,987. While they don't have figures for entry-level and advanced positions, they indicate that SEO executives earn $53,293 on average, and SEO managers $55,804 per year.
Want to know how much marketers make in general?
Also Read: How Much Do Marketers Make? Marketing Job Salaries in 2021; 2022 Average Digital Marketing Salary in Canada: Entry Level to Six Figure Jobs
Best SEO tools: Free & paid
One skill that an SEO specialist is expected to have is the understanding of multiple SEO tools to help execute their job. These tools can help in analytics, research, site speed, keyword research, linking, local and/or mobile SEO, on-page and off-page SEO, crawling, and more.
Best tools for Keyword Research
Google Keyword Planner
What it does: Before anything else, you must know that you don't have to spend money to use this feature.
Google's keyword planner gives a forecast for all your keywords. This allows you to check how many conversions, clicks, and impressions your set of keywords may get. You can also use their "Discover new keywords" feature to generate new keywords related to your site.
Ahrefs Keyword Explorer
What it does: Ahref's powerful Keyword Explorer allows you to check the search volume, CPC, global volume, and keyword difficulty for any set of keywords. It also gives you ideas for keywords, including terms that match with your current keywords, related questions, and keywords you can also rank for.
SEMrush
What it does: SEMRush offers five different keyword research tools. You can find high-volume, low-competition keywords, run analysis on whether or not you should compete for your keyword, manage your terms into an XLSX or CSV file, and gain organic traffic insights.
Best tools for Analytics/SERP
Google Analytics
What it does: Google Analytics is the go-to for any marketing professional. It offers web analytics services that tracks user numbers and location, revenue, marketing campaign performance, engagement time, conversions, and more through user-friendly visuals.
Screaming Frog
What it does: Screaming Frog's SEO Spider is a technical SEO audit tool that allows you to crawl sites. It lets you find common errors such as broken links, unoptimized title and meta data, duplicate content, redirects, URLs blocked by robots.txt, and more.
SE Ranking
What it does: SE Ranking's SERP Checker lets you track your keyword rankings on Google, Yahoo, Bing, and Youtube. You can check how you rank in any language and country, whether on desktop or mobile, plus monitor your competitors, and access its API for further customization.
Best SEO chrome extensions
MozBar
What it does: MozBar is a free SEO toolbar that shows instant metrics when you use it on any website. You can check a site's Page Authority, Domain Authority, and Spam Score with one click.
SimilarWeb
What it does: SimilarWeb lets you check a site's global, country, and category rank with one click. Below the rankings, you'll find a graph showing a site's visits over time, bounce rate, pages per visit, monthly visits, and average time per visit. It also shows top organic and paid keywords that drive traffic to a website.
Ubersuggest
What it does: A free SEO and keyword extension, Ubersuggest checks the search volume, CPC, and insights for keywords you search on Google, Youtube, and Amazon. Furthermore, you can access backlink data, related keywords, and per-country keyword data.
Career advancement in SEO
If you need extra motivation to start your SEO career, take a look at Amrita Udeshi's journey.
Amrita decided to take on two apprenticeships at the same time to gain hands-on experience with other marketing skills. She quickly realized that she liked SEO and paid ads as she was trained by her two mentors in these skills. And because her training is well-rounded, she was able to pick up soft skills that made her better at her work.
Following her apprenticeships, she gained certifications, confidence, and skills that helped her become a full-time SEO manager and specialist.
If you want to read more success stories like Amrita's, you can find them here. And if you need more information or career prep help, you can check this section out.
Five years in journalism, two in proofreading, and eight in freelance ghostwriting. Creating content that's entertaining, informative, and actionable shapes my writing. When not scrutinizing my copy, I'm likely watching hockey.
Top Marketing Webinars for Digital Marketers in 2023

By attending these webinars, you will have the opportunity to learn from industry leaders, gain insider knowledge, and stay ahead of the competition.

9 Types of Digital Marketing to Choose From in 2023

Digital marketing is a dynamic field that offers diverse career opportunities. From search engine optimization to social media marketing, there are many specializations to explore. Whether you're just starting out or looking to switch careers, this guide will help you find your ideal digital marketing niche.


Subscribe to our newsletter for digital marketing resources
Become a better marketer with our digital marketing resources and tips shared weekly in your inbox.

Build your marketing career for free or find marketing talent on any budget — fully remote.