How to Start Your Own Social Media Marketing Agency
If you're wondering how to start your own social media marketing agency, look no further. We'll explain what you need to plan, and what skills and tools you'll need to run your agency. And if you need tips to get your first client, don't fret—we have that covered too.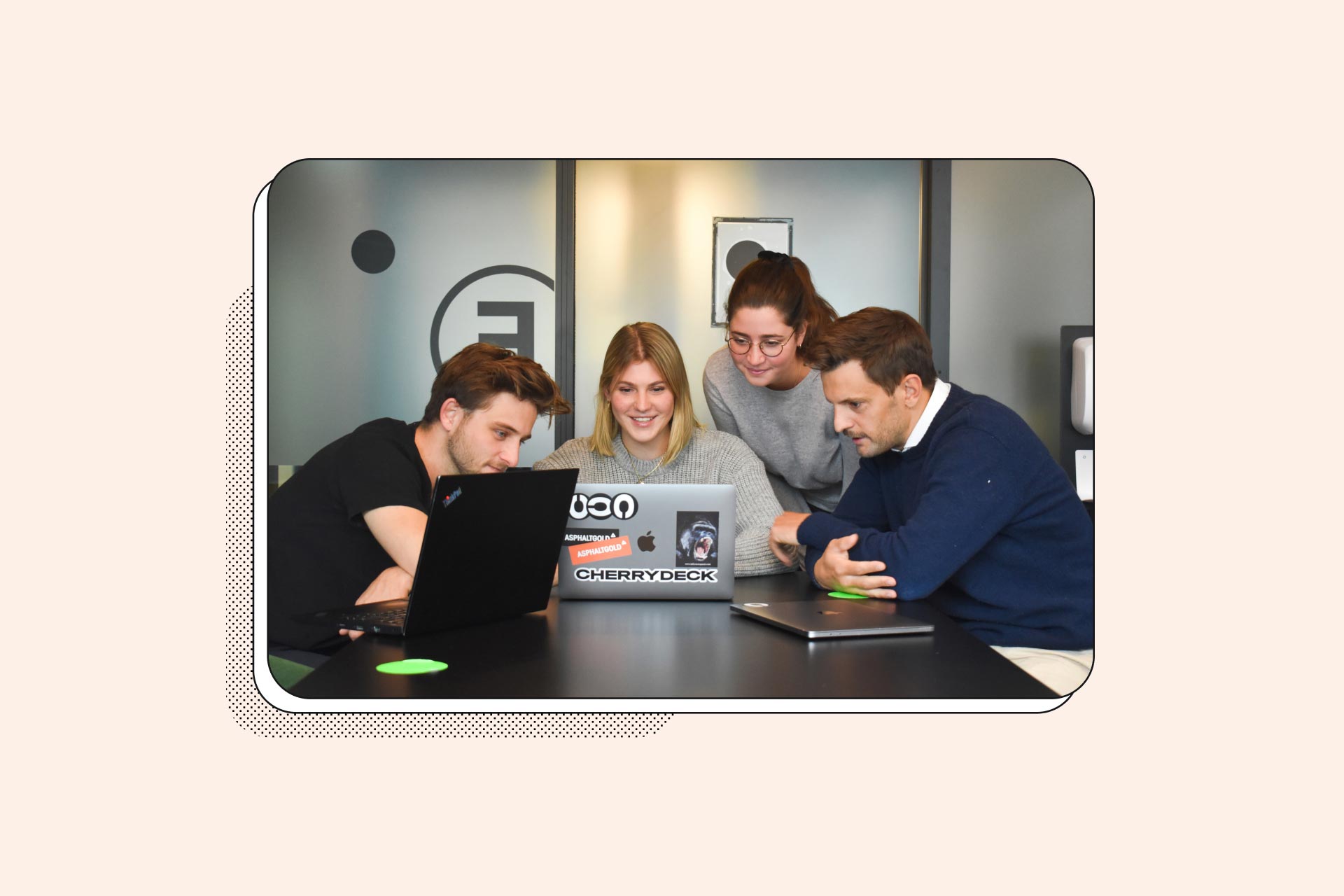 With 4.55 billion people using social media, we can see why you're looking up how to start your own social media marketing agency. And starting a social media agency now is timely. That's because more entrepreneurs and business owners are investing in platforms to attract new customers. This post provides the basics on what you need to know when planning your agency. We'll also cover the ballpark figures of how some agencies earn and charge, and how to get your first clients.
Your social media marketing agency can take off easier if you have social proof of your track record. In other words, concrete work, results, and testimonials will attract clients faster. So if you need more credentials, sign up for an apprenticeship with Acadium. By working with a mentor, you'll create verifiable output, work samples, and reviews you can show to potential clients.
Acadium Apprenticeships
Gain marketing experience
Improve your credentials and expand your portfolio with a three-month apprenticeship. Get verifiable results you can show your clients.
In this post, you will learn the answers to three questions you may have as a budding agency founder:
How do I start a social media marketing agency with no experience?

What skills and tools do I need for my agency?

How do I get clients for my social media marketing agency?
Social media marketing is one of the top skills sought by Acadium mentors and businesses. That comes as no surprise. Experts project social media ad spend will grow beyond $200 billion by 2024. And that means social media is now an integral part of regular marketing efforts.
So how can you capitalize on that, especially if you have no experience running an agency?
How do I start a social media marketing agency with no experience?
Before starting anything, having a solid plan with defined goals and targets increases your chances of success. Social media marketing is no exception. Your roadmap should consider the social media services businesses want. In addition, you need to draw up a price list, and skills and tools to fulfill contracts. You also need to check off technical and legal to-do's to improve your credibility.
Identify your ideal client
To start with, you need to identify your ideal client profile or ICP.
Having an ICP helps you find new clients by being laser-focused with your offers and marketing. And so, you need to answer:
What kind of client do you love to work with?
Do you know your ideal client's demographics?
What are your ideal client's psychographics?
Can you address their pain points?
What's their business size?
Who is willing to pay you?
You can base what kind of clients you love working with on your former clients. For that, we can start where they're typically located, what size your client's business is, and how long your contracts tend to be. Then, consider what personal and professional characteristics made you like working with these clients.
Finally, reflect on what motivated your client to take action and hire you. Is it because their needs are beyond their skill sets, or are they motivated by something else? Thinking about your clients' pain points will not only help you create an ICP, but will also make it easier to craft marketing strategies and messages that address these problems.
However, if your client history is short or non-existent, you have alternatives to draw information from. Namely, you can look at industry reports, industry communities, and job sites. Reviewing these will also help you if you have a client history to draw from.
To top it off, determine who's willing to pay you. Specifically, who's willing to meet your rates because they understand the value of your services and need the least convincing. Don't waste your time marketing your services to businesses that don't have the budget or interest in working with an agency.
Find your niche
Further narrowing your scope of clients to a niche does two things: it slims down the competition and allows you to focus on a smaller audience that's more likely to contract with you.
Your specialization can revolve around an industry, service, social media platform, or any combination of those. At the outset, your clients could be local cell repair services or restaurants. You can offer improved brand awareness through content. Likewise, you can offer lead generation through Facebook and Twitter ads. You can even pick two niches if there's a high number of prospective clients in those industries.
Selecting niches should also draw from your area of expertise. It's easier to position your agency as the right choice if prospects know you can see where they're coming from and what solution best fits their needs.
Your agency can expand its services to other sectors as you grow. And if you decide to continue specializing in your niche, you can eventually charge a premium for your services.
Know what services businesses want
Let's look at the top reasons why businesses use social media:
Increase exposure
Improve traffic
Drive sales
Generate sales leads
Develop loyal fans
Create marketplace insight
Grow business partnerships
Social media also provides a unique solution to a growing problem: ad blockers. Around 42.7% of internet users use ad blockers. For this reason, more businesses are looking for an alternative to online advertising. So what's their workaround? To create content that promotes products and services on social media without making it feel like an ad.
And it's your know-how that can help businesses drive the conversation to their storefronts.
Your agency will create marketing strategies on social networks where the client's core demographic is. The top platforms of choice are Facebook, Instagram, Twitter, Pinterest, TikTok, and LinkedIn. Each of these has demographics and customer profiles unique to the social channel.
Social media marketing focuses entirely on these platforms, unlike digital marketing, which covers more marketing options. Network-specific strategies also go in-depth on tailor-made content and customer engagement.
Goal-setting
After you've determined what services are profitable and your initial niches, you must set S.M.A.R.T. goals. S.M.A.R.T. means:
Specific: Set clear and specific goals to have an idea of how to go about it.
Measurable: Have trackable metrics to see your goal progress.
Achievable: Create actionable milestones you can work towards.
Relevant: Check if your goals align with the purpose of your agency.
Time-bound: Decide on realistic deadlines to inspire focus and motivation.
Why do you need S.M.A.R.T. goals? You increase your success at achieving goals by clearing up your main objective and providing concrete actions to achieve them. Moreover, you're setting expectations and can measure your success within a given timeframe.
Let's explore the concept through a simple scenario. A new, small agency wants to have 10 clients by the end of one month. They go about this by connecting with prospective clients through social media, engaging them with content that matters to them, and providing incentives such as promos, to name a few.
This criterion can keep you motivated, track your progress, and keep a tight schedule to reach your realistic but ambitious goals.
Technical and legal details
Before you start signing on clients, you have to ensure everything your agency does is above board. What that means is deciding the business structure of your agency and taking care of your registration, taxes, legal, and financial obligations.
When starting out, you're likely creating a sole proprietorship. For one thing, you're the sole owner of your business. For another, they're easy to put up and break up. And while liabilities to your agency are entirely your losses, you have full control of your profits as well.
But as your agency grows, you may want to consider registering either as an LLC (Limited Liability Corporation), corporation, or partnership, depending on what's most appropriate for you. If you have a collaborator or long-term freelancer, a partnership might make the most sense. And if you're drawing enough revenue, have multiple employees, and want to protect your agency from liabilities, then either an LLC or corporation might be better.
It should be noted that laws vary per country, state, and province, so you should check what entity you can register your business as. For example, if you live in the U.S., you can easily shift your agency from a sole proprietorship to an LLC, an entity that protects your personal assets from business liabilities. It's best to consult a lawyer and accountant to set up your business correctly right from the start.
What skills and tools do I need for my social media marketing agency?
Now that you have a plan, you need the right skills and tools to fulfill your client projects, keep them as regulars, and attract more.
Skills to serve your clients
We can split these skills into four categories: marketing strategy, engagement monitoring, follower analytics, and advertising.
Your marketing strategy refers to your overall plan for reaching your client's goals. Social media content and campaign creation are at the heart of this process, as well as your publishing strategy and promotion.
Monitoring your content's success will help determine if you've met your client's goals—or even surpassed them. Content engagement is determined by several factors, including bounce rate, average time on page, scroll depth, and most importantly, conversions.
Your monitoring extends to analyzing the patterns of your client's demographics. Checking feedback, identifying pain points, and keeping tabs on numbers will help improve engagement and set benchmarks.
When 88% of people say they are likely to buy from a brand after reading customer reviews on social media, businesses sit up and pay attention. Couple this with the problem of ad blockers, and you'll see why you need to know how advertising works across platforms.
Skills to manage your social media marketing agency
Your agency is still a business you have to manage on top of all your client-facing responsibilities. You'll need to develop these business management skills to maintain your agency.
Communication, interpersonal skills, and situational awareness affect all aspects of your job, from client management to managing your business.
Your money is your agency's capital. So you have to make sure your business is financially solvent. This goes double if you have employees, or are working with freelancers.
Project planning and management
Effective project planning and management smoothen the implementation of marketing strategies. It also gives you room to fine-tune plans for the best results.
Negotiation is what gets clients to agree to your rates, reset deadlines, and get resources for your campaigns. Unquestionably, negotiation can get you results that you may not get if you can't negotiate well.
Tools agencies use for fulfilling contracts
Your agency needs effective and reliable tools that you or anyone on your team can use. Some tools that pros use are:
Hootsuite
You can use this social media management platform's dashboard to manage multiple accounts at once. Thanks to its features and network integration, you can schedule posts and check the analytics of your content from one space. Asset storage and content curation are also made easier by its intuitive design.
Alternatives: SocialPilot, CoSchedule, Sendible
Nuvi
Nuvi is branded as an "all-in-one" "social analytics and customer experience platform". You can use this software to collaborate with others to create unique marketing content. Furthermore, your team can use Nuvi's tools to identify key market insights to guide your content strategy.
Alternatives: Falcon.io, Sprout Social, Salesforce Social Studio
BuzzSumo
In need of new keywords, trending stories, or the hottest customer questions to optimize content performance? Well, BuzzSumo brings it all to your fingertips with its search function. You can also check on your client's competition and monitor how their brands are perceived.
Alternatives: Ahrefs, ContentStudio, ShareIt
Canva
Canva is an online graphic and video editor. You can create stunning social media graphics, presentations, and videos without prior knowledge. Plus, the site comes pre-loaded with templates and stock images that you can play around with on its easy-to-use interface.
Alternatives: Adobe Spark, Design Wizard, Stencil
VSDC Free Video Editor
Its biggest selling point is in its name: it's free! And this non-linear video editor has every tool you need to create top-quality videos. You don't have to fret about losing quality either, as it's capable of processing and rendering HD, 3D, 4K UHD, and VR 360 footage.
Alternatives: VEGAS Pro, Filmora, DaVinci Resolve
Tools for running your agency
As with skills, you need separate tools to run your agency. A few effective apps for running your business include:
HubSpot CRM
HubSpot's customer relationship management offering is 100% percent free. Apart from tracking your sales activity and performance, you'll always have access to time-saving tools and company insights. You can manage the entire process of client interactions from this interface, from contract negotiations to maintaining a client relationship after a project.
Alternatives: Less Annoying CRM, Really Simple Systems, Zoho CRM
Hubstaff
You'll need a way to track your hours and, if you have employees or contractors, a workforce management platform. For those purposes, you'll find Hubstaff useful. The free plan allows you to monitor project activity and progress, streamline time tracking, and ultimately drive up team efficiency.
Alternatives: Toggl, Harvest, TimeCamp
Asana
Your team needs a collaboration tool to share resources, track projects, and change variables any time without waiting on each other. So what you need is a platform like Asana, a task and project management platform that's free up to 15 people. You can get real-time reports on any project, set goals and boards, integrate various apps, and maintain portfolios and workload any time.
Alternatives: Trello, ClickUp, BaseCamp
Six ways to get clients for your social media marketing agency
You have two approaches when it comes to getting clients for your agency: active and passive. Active is what it implies: you seek clients in need of your services and work up to pitching to them. On the other hand, passive or inbound marketing involves making your agency visible to attract clients without constant supervision.
You want to use a mix of both. You can't just rely on active marketing alone. On the other hand, passive marketing is a long-term game and is slower to get results. Thus, mixing methods will produce continual results.
Here are three ways of active and passive marketing:
Active marketing
1. Networking
Now's the time to reach out to who you know. Past employers and co-workers, friends, acquaintances from interest groups, and anyone you've built a rapport with can lead to potential clients. And when you do reach out, ask for an introduction or if anyone they know needs your services—it's less imposing than pitching outright.
2. Marketing funnel
It's a sales funnel, but for selling your agency's services! You start by making prospective clients aware of your service. You follow up by catching their interest—with free content, or other offers that end with a way to opt in. Once you have an audience locked in, you can nurture their interest with more offers and demos to make them consider your services. Then, once they evaluate that your services are needed, you can convert these prospects into clients.
3. Social selling
Social selling is the art of building your agency's credibility by engaging with your target clientele on the platforms they are on. You invest time in researching where your prospects interact the most and connect with them to build relationships that will lead to sales, referrals, or more business opportunities.
Passive marketing
4. Business website
Your website is essentially your storefront. And to ensure visitors are converted to clients, your site should have everything they need to make the decision to hire you. Showcase testimonials, your agency's past works—or if you're starting out, your personal portfolio—a pricing list, and an easy means to contact your agency for contracting.
5. Social media marketing
Your agency's own social media presence has to be stellar if you want clients to hire your agency. Show prospects that you're good at what you do by having engaging, thoughtful posts that position your agency as experts in the field. Eventually, your social media reputation can generate word-of-mouth marketing, a hands-off way of drawing more business. 
6. Content marketing
Unlike a marketing funnel, your content in this case will speak for itself. Whether they're blogs or videos, your content should show clients that you can upgrade their material. You can also make readers or viewers open up to hiring you with expertly-made content that strikes your future clients' professional interest.
Launch your social media marketing agency
Starting your own social media marketing agency takes a lot of patience, experience, and hard work. But when done right, you can launch a business that gets steady work—and income.
For inspiration, listen to Jalisa Haggins, an Emmy Award-winning TV producer turned digital marketing agency-owner. Jalisa leveraged multiple apprenticeships with Acadium to get her agency off the ground.
When you sign up for an apprenticeship, you can start creating social proof of your work. You get star reviews and recommendations from the vetted mentor Acadium matches you with. Potential clients considering your social media marketing agency will reach out when they see the results you've achieved working on real-world marketing projects.
What's more, working with your mentor 10 hours a week for three months will teach you the ins and outs of running an agency. That's because every mentor on Acadium is a business owner who's in the trenches of entrepreneurship. Some are social media agencies themselves! You'll learn all the tips and tricks discussed above, as well as the intricacies of business management that can be learned only through experience.
You'll hit the ground running if you know how to start your own social media marketing agency—with information, experience, and proof of work.
Five years in journalism, two in proofreading, and eight in freelance ghostwriting. Creating content that's entertaining, informative, and actionable shapes my writing. When not scrutinizing my copy, I'm likely watching hockey.
Top Marketing Webinars for Digital Marketers in 2023

By attending these webinars, you will have the opportunity to learn from industry leaders, gain insider knowledge, and stay ahead of the competition.

9 Types of Digital Marketing to Choose From in 2023

Digital marketing is a dynamic field that offers diverse career opportunities. From search engine optimization to social media marketing, there are many specializations to explore. Whether you're just starting out or looking to switch careers, this guide will help you find your ideal digital marketing niche.


Subscribe to our newsletter for digital marketing resources
Become a better marketer with our digital marketing resources and tips shared weekly in your inbox.

Build your marketing career for free or find marketing talent on any budget — fully remote.