10 Places to Find a Great Marketing Internship this Summer [+ Top Tips]
A great marketing internship could be the key to getting your first—or next—marketing job. In this post, you'll find 10 sites that list marketing internships, what you can expect to be doing, how much marketing interns make, and more.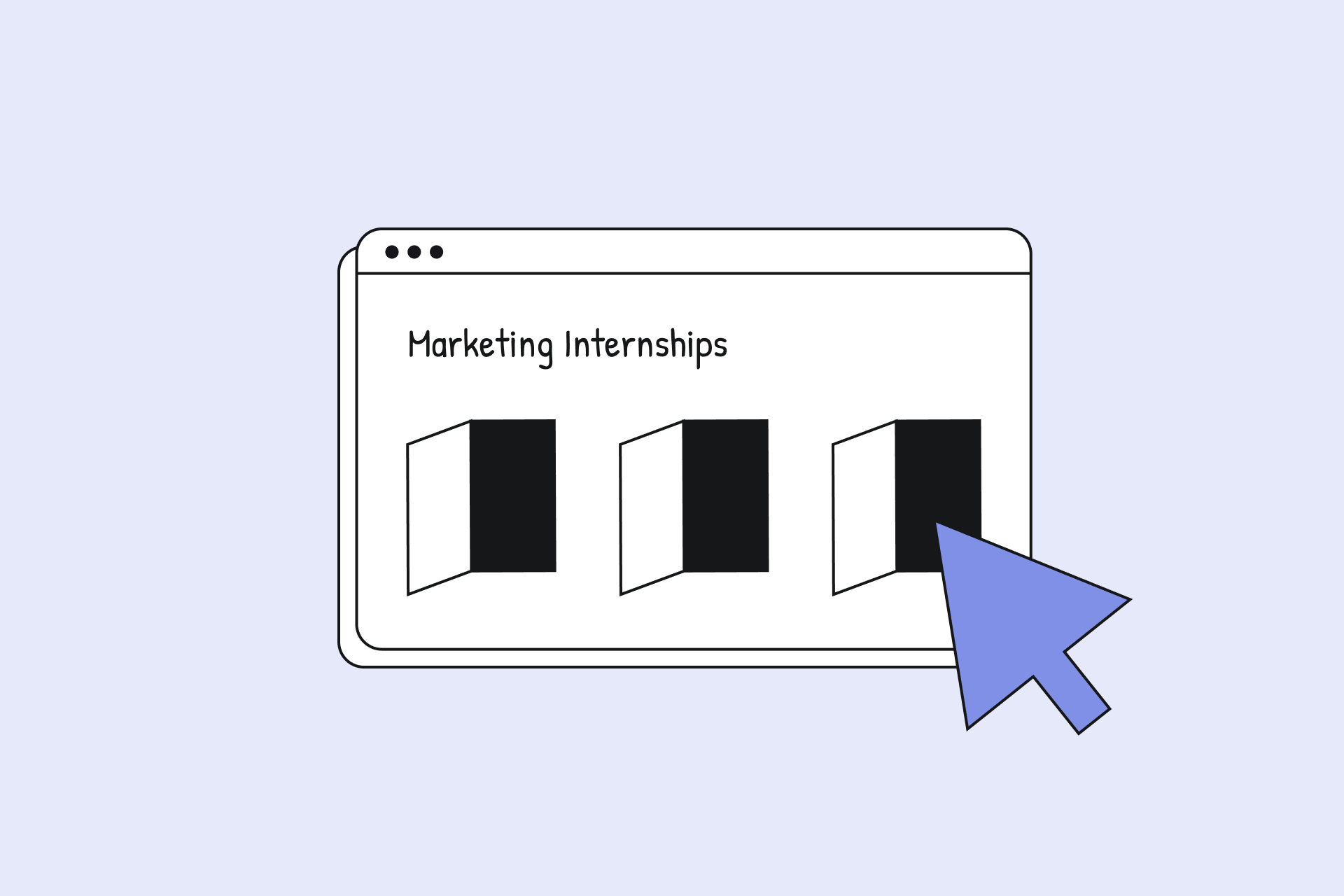 A good marketing internship could be the key to getting a marketing job after you graduate. That's because even entry-level marketing jobs nowadays require some experience. And a marketing internship is a great way to gain real-world marketing experience while you're completing your degree.
But what if you're having a hard time getting a marketing internship? 
Getting accepted into an internship is almost as competitive as getting a job. One great alternative to a marketing internship is a digital marketing apprenticeship on Acadium. You don't have to be enrolled in an undergraduate program. You can juggle an apprenticeship with your studies or a full-time job. And it's 100% remote. You can do it from anywhere as long as you have a computer and internet connection.
To get started, sign up for a free Acadium talent account today.
However, if you're looking for a marketing internship, then here are the best places to find marketing internships in 2021.
10 best places to find great marketing internships 
Many opportunities for marketing internships are published every day. It pays to look for them in several different places. In our research, we've found that websites list interesting marketing internships:
Indeed is always a good place to start looking for marketing internships, because it aggregates online internship postings from other websites. The marketing internships on Indeed are comprehensive and up-to-date. You can also filter listings by keyword and location. That comes in handy if you want to do a marketing internship in a specific place.
Another good place to look for marketing internship listings is LinkedIn. LinkedIn is the top social media platform for professionals and corporations. If you want to do an internship with specific businesses or organizations, then it pays to follow them on LinkedIn. Check regularly so you'll be one of the first to see their internship postings. You can also connect with employees in these companies and start building your network.
Glassdoor also lists marketing internships. However, it's more than a job board; it's also a review site for employers. When you find internships you're interested in, you can research the business or organization that posted it to see if it's a place you'd like to do your internship. You'll find a lot of useful information about internships, employers, and jobs on Glassdoor. You do have to create an account and submit your reviews to access the content.
SimplyHired is another job board that has listings for marketing internships. Simply type "marketing internships" in the search bar, add a location or "remote," then click Search Jobs. When I made a search query for remote marketing internships, SimplyHired delivered 725 results! Most of the listings also included either the actual or estimated salary.
If you're looking to do a marketing internship overseas, then Intern Abroad HQ is the job board for you. This site lists internship programs in Europe, Asia, Africa, Central America, and South America. Remote internships are included as well. They take care of everything, from placement to overseas accommodation and providing local support to interns.
Looking for a marketing internship in Canada? Then make sure to stop by Workopolis, a Canadian job board that was founded in 1999. If you apply through the site, you'll be able to track the status of your application. For example, Workopolis lets you know how many times your resume has been viewed. Workopolis also always includes either the actual salary of each posting or an estimated salary based on third-party data.
Looking for an Alternative to Marketing Internships?
Check out digital marketing apprenticeships on Acadium. You'll get the skills and work experience you need to become more employable, for a total of only 120 hours.
Wowjobs is another job board that indexes other job boards in both Canada and the United States. Its no-nonsense interface will appeal to you if you don't need or want a lot of bells and whistles when looking for internships. You can sort the listings by relevance, time posted, employer, and location.
Want to be an intern at Google? Then include Google Careers in your search! As of this writing, not many internships are available. And most of them are outside the United States and Canada. But if you're dead-set on working in Google eventually, then you should look for that internship on Google's very own job board.
iAgora is another job board dedicated to international internships and placements. If you want to study or work abroad, then this is the site for you! When I searched for marketing internships, iAgora displayed almost 1,400 listings from all over the world! This is another essential job board for those who are looking for overseas marketing internships.
No search for internships would be complete without The Intern Group. This British company focuses on providing customized global internships. They have internship programs for candidates at all stages of their studies or career. The international internship program is their flagship program. However, they also offer remote internships and independent traveler internships.  
You may be looking for marketing internships as a way to get a marketing job. But what if you don't meet the requirements of an internship? These are just a few of the requirements most internships have:
Currently pursuing a bachelor's degree

Cumulative GPA of 3.0 or above

Has previous co-op and/or internship experience, such as having completed projects related to the internship (including personal projects or projects for family/friends)

Enrolled in a school with a co-op agreement with the company

Has knowledge of the company's industry
If you don't meet these requirements, then Acadium is a great place to get the marketing experience that makes you more employable.
An Acadium apprenticeship is an unpaid placement that has priceless payoffs, such as:
The time commitment is only 10 hours/week for 3 months. You can easily juggle an apprenticeship with full-time studies or a full-time job. This is a great option if you can't do a full-time internship.
You get practical, hands-on experience. Unlike internships that have you doing menial jobs, Acadium apprenticeships get you working on real-life marketing projects. Your resume will shine when you have these under your belt.
You learn alongside a mentor. In return for your work, your mentor dedicates 1-2 hours per week to give you guidance, training, and feedback. This relationship often extends beyond the apprenticeship. Your mentor may hire you or introduce you to other potential employers. In fact, 55% of the Acadium mentors we surveyed said they hired their best apprentices.
Watch this video to see what it's like to get accepted into an apprenticeship:
FAQs about marketing internships
As someone looking for marketing internships, you may have many questions. Below are some frequently asked questions about marketing internships and our best answers for them.
What do marketing interns do?
Great question! Marketing is a broad field, and marketers do a wide variety of tasks. After reviewing marketing internship job descriptions, we've observed that they commonly include the following:
1. Research
Conduct a market study

Identify social media trends and opportunities
2. Content creation and management
Develop social media content

Create social media videos

Create social media graphics

Manage content schedule and editorial calendar

Internal and external communications

SEO: keyword research; on-page optimization; link-building prospecting and outreach; crawl issue analysis and resolution; creation of SEO-driven content

Create a monthly newsletter, weekly blog posts

Develop marketing materials, such as ads, event flyers, online videos
3. Strategy formulation
Shape social media strategy

Create marketing campaigns

Help in ideation of new digital marketing and social media campaigns
4. Analytics
Prepare and present performance reports

Analyze metrics and make recommendations
5. Sales
Sales activities

Follow up with leads through email and social media
6. Others
Grant writing

Event planning and execution

Partnership and sponsorship outreach
Marketing internships also require you to be knowledgeable about specific tools. The most common ones are:
Excel

Hootsuite

MailChimp

Microsoft Office

Outlook

PowerPoint

SharePoint

Microsoft Word
How much do marketing interns get paid? 
Salaries for marketing interns vary widely.
In the United States, the average pay for marketing interns is anywhere from $13.67 per hour to as much as ​​$15.34 per hour. 
In Canada, the average marketing intern salary ranges from CA$16.37 per hour to $30.13 per hour.
How much marketing interns get paid depends on their level of experience, as well as the location of the internship. Bigger urban centers tend to pay their interns more. Of course, that's because the cost of living in these areas is also higher.
How do I get a marketing internship?
Marketing internships can be as competitive as full-time jobs. And so, you'll need to have the same marketing skills to get an internship as you would to get a job.
Here are our best tips to help you get a marketing internship:
1. Be intentional about what specific aspects of marketing you want to learn
You may be tempted to accept any marketing internship that's offered to you. However, you may be doing yourself a disservice in the long run. If you're in an internship that doesn't interest you, then you're less likely to do well. You may even end up wasting your time (not to mention, the employer's time).
Instead, stop and think about what specific marketing skills and areas you want to learn during the internship. Then focus your search on those areas. 
2. Build a compelling and coherent personal brand
Being a marketing professional means knowing how to market yourself, first and foremost. It will help your internship search greatly if you have a compelling personal brand. Your personal brand is made up of your social media profiles and a personal website and/or online portfolio. Make sure all these elements portray you professionally.
Did you know? Your Acadium profile ranks on Google's search results! So if a potential employer were to search for you, they're likely to see your Acadium profile. Your profile shows the online courses you've completed on Acadium, as well as mentors' ratings of your work. It's a terrific way to attract and impress potential employers!
3. Write an appealing cover letter
Ditch the cover letter templates that make you sound stiff and boring. Keep your cover letter professional, but let your personality shine through as well. It helps to address the letter to a specific person instead of the generic "Hiring Manager." This means you'll have to do your homework. As with your resume, tailor the cover letter to the specific internship. And highlight key achievements to entice the recruiter to read your resume.
4. Make your resume compelling
Your resume is what gets you an interview with an employer. To make your resume more compelling, make sure it's tailored to the marketing internship you're applying for. Use the language used in the internship job description. Add education, training, and experiences that are relevant. And as much as possible, make your resume results-based rather than just task-based. For example, don't just say you wrote blog posts. Specify how much organic traffic those blog posts generated.
5. Learn how to give good interviews
You know you've done a great job with your cover letter and resume when you get the interview. Your next job is to impress the interviewer and make a good case for why you're the perfect intern for them. Be relaxed yet professional. Come to the interview prepared with specific examples of why you're a good fit for the internship. Prepare a list of questions to ask the employer, and follow up meaningfully after the interview.
Also Read: Describe Yourself in an Interview – Step-by-Step Guide
What to look for in a marketing internship
Not every marketing internship will be ideal for you. As you browse through the listings, keep these three considerations in mind.
1. Hands-on training in key marketing skills
Look for internships that will give you involvement and ownership of actual marketing campaigns. Usually, the more specific the job description is, the better. Avoid general internship postings that simply say "assist in…" or "help with…." That may mean you'll only be doing menial work that doesn't teach you anything.
2. Autonomy and ownership
You'll want a marketing internship that gives you responsibility and autonomy for at least one specific project. That way, you can claim the results as your own. You can then leverage this on your cover letter, resume, and interviews when you apply for jobs. Note: You may have to ask about this during the interview.
3. Networking opportunities
An often overlooked benefit of internships is the network you make. Study the job description carefully to see if the internship will give you the chance to connect with co-workers and other people in the industry. Connections can open doors for you, so the opportunity to network is gold.
Find a great marketing internship and gain valuable experience
Finding a great marketing internship may be necessary for you to get your undergraduate degree and your first job after college. While many opportunities exist, landing an internship can be as competitive as landing a job.
A good alternative to a marketing internship is an apprenticeship through Acadium. Apprenticeships are open to anyone who wants to learn marketing and gain experience. You don't have to be enrolled in college or university to become an apprentice. And aside from the training and hands-on experience, you'll also connect with mentors who are in the trenches of running a business day in and day out.
Whether you choose to take a marketing internship or a digital marketing apprenticeship, the experience will help you land that dream marketing job after graduation.
Editor's Note: This article was originally published in 2021. It was updated in May 2022 for freshness and accuracy by Alisha Sharma, Content Manager at Acadium.
Lexi Rodrigo is the former Content Manager at Acadium. As a marketing and communications professional and course creator, she helps remarkable brands get seen, heard, and known. She has been a digital marketer and copywriter since 2008. She's also the co-author of "Blog Post Ideas: 21 Proven Ways to Create Compelling Content and Kiss Writer's Block Goodbye." When she's not reading or writing, Lexi bakes bread, grows food, and takes long walks. Connect with Lexi on LinkedIn.
Top Marketing Webinars for Digital Marketers in 2023

By attending these webinars, you will have the opportunity to learn from industry leaders, gain insider knowledge, and stay ahead of the competition.

9 Types of Digital Marketing to Choose From in 2023

Digital marketing is a dynamic field that offers diverse career opportunities. From search engine optimization to social media marketing, there are many specializations to explore. Whether you're just starting out or looking to switch careers, this guide will help you find your ideal digital marketing niche.


Subscribe to our newsletter for digital marketing resources
Become a better marketer with our digital marketing resources and tips shared weekly in your inbox.

Build your marketing career for free or find marketing talent on any budget — fully remote.