Entry-level Digital Marketing Cover Letter [+Template]
Writing an entry level marketing cover letter is less stressful than you think! Pick up tips on how to format a marketing cover letter with no experience below.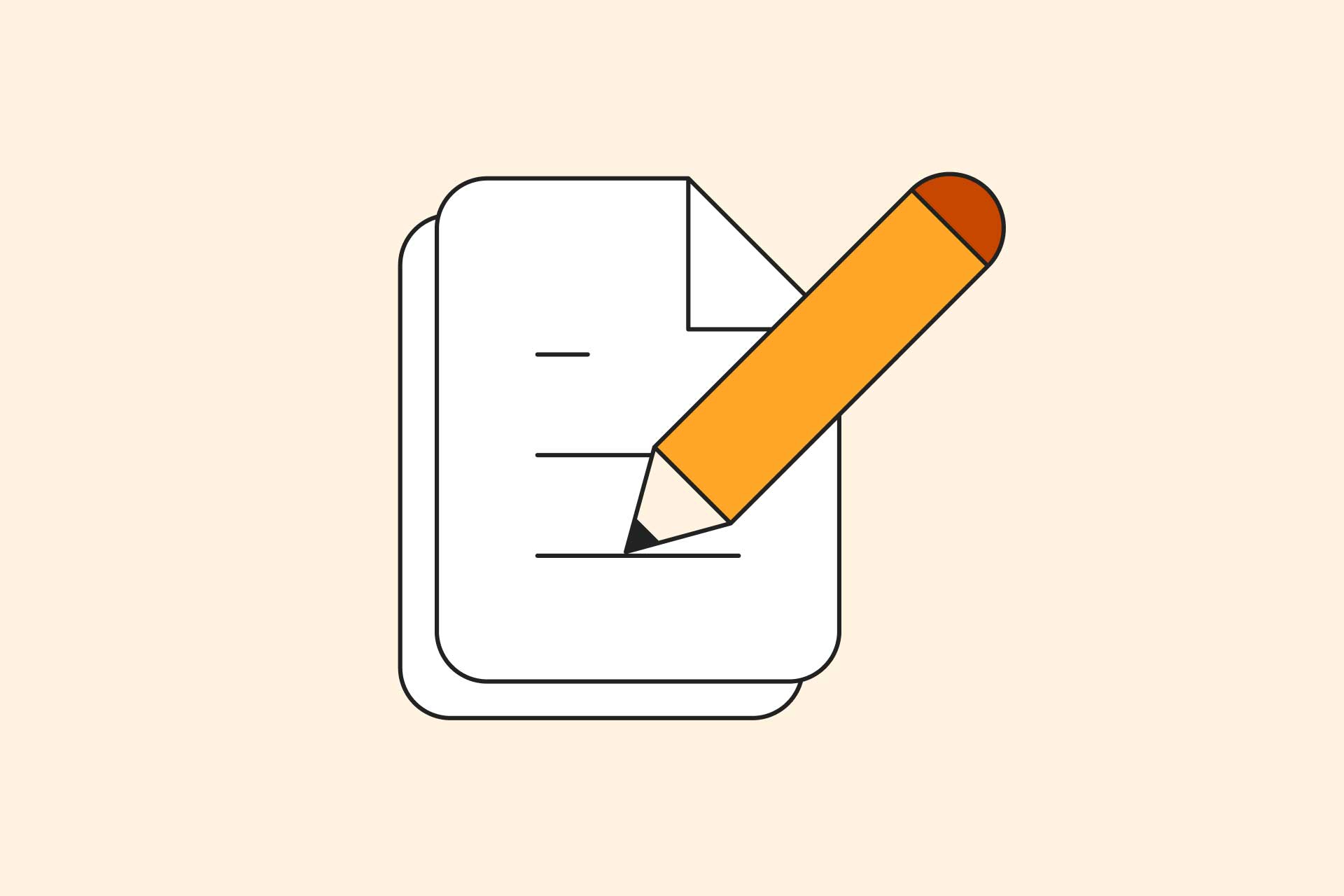 Writing an entry-level digital marketing cover letter is a daunting task. After all, you're writing a cover letter for a marketing job with little to no experience. Should you even try to send one with your resume?
The short answer: Absolutely!
This post will help you write an entry-level digital marketing cover letter that highlights your best traits and qualifications, even if you haven't worked before. You'll also find tips for writing for specific marketing disciplines, such as digital marketing, SEO, social media marketing, and content marketing.
Here's what we will cover in this blog post.
Note that if you want marketing knowledge to add to your cover letter, an apprenticeship will help. A marketing apprenticeship will teach you must-have skills through tasks that have an impact on real businesses. Your mentor can also provide insight into what businesses look for in an entry-level digital marketing cover letter.
Acadium Apprenticeships
Digital marketing experience worth talking about
Gain digital marketing experience that helps you score interviews. Work with a mentor 10 hours a week, for 3 months, at no cost.
So, let's answer an important question:
Do you need an entry-level digital marketing cover letter?
In short: It's better to have a cover letter than not. Unless the job posting specifies it won't accept cover letters, it's best to submit one with your resume.
If the position is competitive, having a cover letter can tip the balance in your favor. A cover letter can demonstrate that you've researched the company, explained gaps in your employment, and included information that's not in your CV, such as your internship, student org, or volunteer experience.
However, if you'll only repeat what's in your resume, it's best if you skip the cover letter. At the same time, opt-out if you're using a template and don't have any plans to modify it. Using a template isn't bad—that's why you'll find a sample below—but you must customize it according to your experience, relevant work skills, and reasons for applying.
With that settled, let's discover how to write a cover letter for a marketing job with no experience.
How to write an entry-level digital marketing cover letter
1) Identify keywords in the job description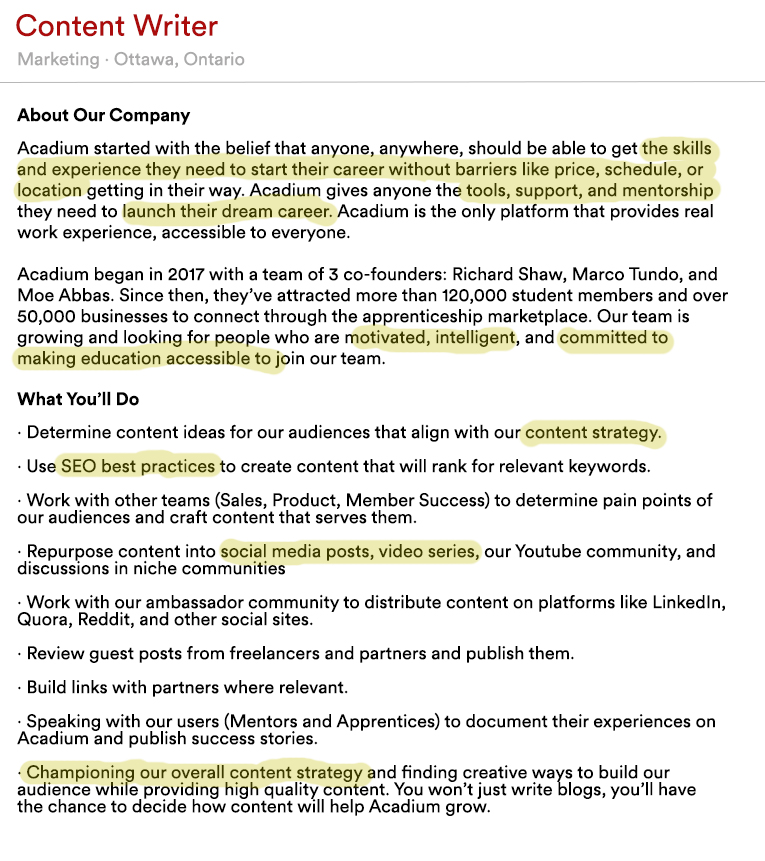 Reading the job description is a must, whether or not you're writing a cover letter. And since you are, you should analyze it to pick out prominent and repeated key words, key phrases, skills, and qualifications. These are words and phrases you should use in your cover letter and even your resume.
Using the right keywords will also help you get past the first round of CV screenings, especially since most employers use applicant tracking systems (ATS). ATS are automated programs that rank documents according to set parameters like keywords, skill sets, and similar criteria.
Hiring teams use ATS to weed out candidates without the basic skill sets, and those who applied on a whim. Plus, even without an ATS, recruiters use a similar system when reviewing applications. They're good enough that they only spend an average of 7.4 seconds per application!
Strategically sprinkling these keywords on your entry-level marketing cover letter will show recruiters a few key things:
You've read the job description
You care about the position
You're sure you're the right fit for the job
2) Look at required job skills and qualifications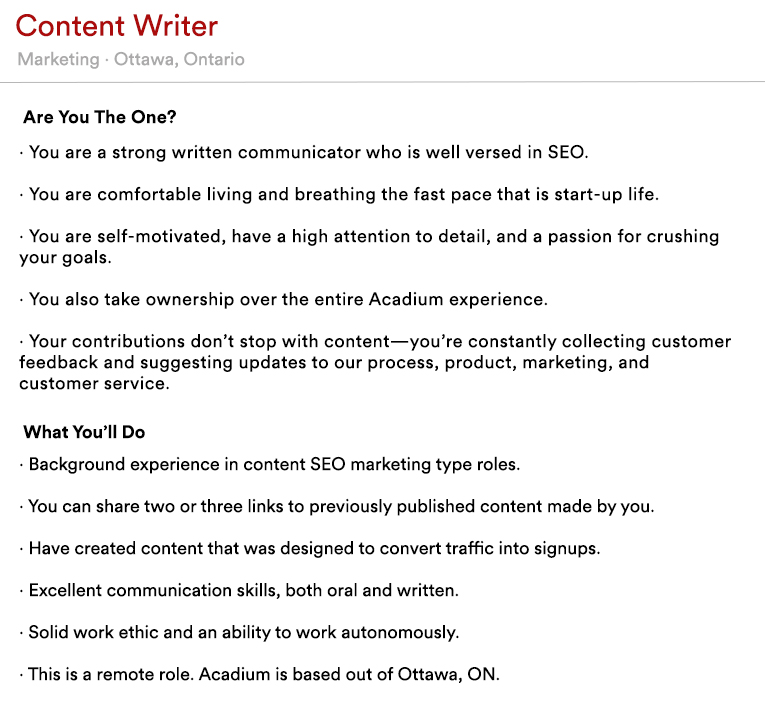 While 91% of employers prefer candidates with work experience, at least 65% are content with applicants possessing relevant work experience. So while you might not have formal work experience, your technical and soft skills can do a lot of heavy lifting for you.
Recruiters want to know that you've got the basic skill sets to fulfill job requirements. Besides that, they need an indication of your teachability, or how quickly and well you learn new abilities. Moreover, they want to see if you're capable of working hard and can transfer your skills to the workplace.
You'll find more tips on what skills are needed for specific digital marketing jobs below. As for soft or transferable skills, you want to include them in your marketing cover letter through anecdotes. There's a section for that too, so for now, here are some soft skills you might want to focus on:
Critical thinking
Problem-solving skills
Project management
Conflict resolution
Team management
Data analysis
3) Assess what experiences are related to the job
What you've accomplished in high school, college, or university brings a lot to the table. The experiences you've had creating and presenting your thesis, the crises you've resolved in your student organizations, any internships, apprenticeships, or school positions, volunteering—these can all be used to create a great impression on the recruiter.
Mind you, not every experience needs to be recalled in great detail. Pick ones that demonstrate competencies related to the opening. Using your knowledge of Instagram hashtags to craft a sample social media marketing strategy, for example, is a lot more relevant to digital marketing jobs than clerical work with your school's alumni department.
4) Keep it short
You don't want whoever's reading your resume to zone out a paragraph in. Keep things tight—try to limit your paragraphs to three short sentences. And overall, ensure your letter only takes up a page—or less, as 70% of employers surveyed by Saddleback College prefer a half-page cover letter over others.
Now, keep all these points in mind as you write a marketing cover letter with no experience—which you can do with the template below:
Elements of an entry-level digital marketing cover letter: [+ Free template]
1) Header
If you're sending your application via email, you don't need to include this, as all details are in your email signature. If you're sending your letter as an attachment, then write what you put in a signature in this format:

Below your header, write the date you're sending your letter. Put the name of the hiring manager or whoever's posted the job you're responding to. Add the name of the company next. Some templates place the company address after the name, though you may skip this part.
2) Introduction
Try and keep your introductory paragraph short and sweet. Immediately state what position you're interested in, how you found out about it, and any unique notes about the process. Then, end it with a hook to entice the recruiter to learn more about you.
3) Body: Relevant skills & experience
Don't summarize what's already in your resume! Dive into the skills, qualifications, and anecdotes you've thought of in the previous section and apply them here. Add the keywords you discovered from the job description as well.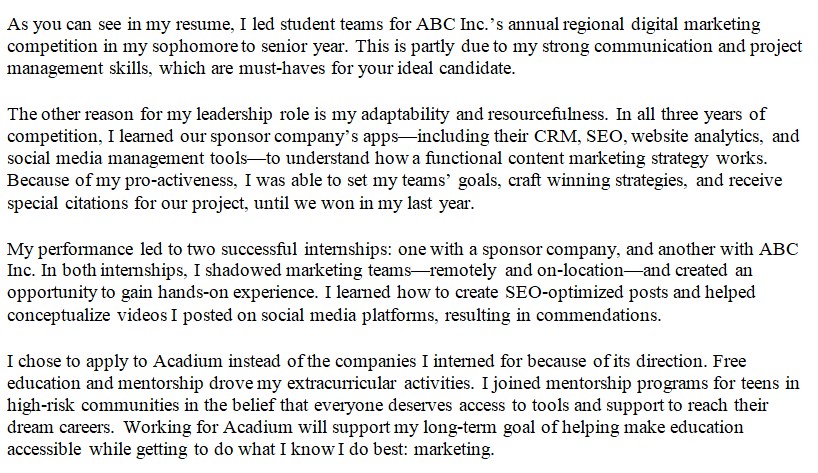 A thing to note in this section, and the rest of your letter, is what adjectives you'll use to describe yourself. You want to avoid words that promise things you can't prove immediately, such as "hard-working". Instead, go for words you can relay into an anecdote that shows off these traits.
4) Closing statement
Like your introduction, make your closing statement simple yet impactful. Note any requirements the employer may need from you, and encourage them to reach out for any further information they may need.

5) Pointers on how to send an entry-level digital marketing cover letter via email
For an entry-level digital marketing cover letter—or any cover letter, for that matter—you should label it clearly to avoid having it shunted to spam.
The subject line should follow the format prescribed by the employer. If they don't have a format, you should try writing it like this:
Title on Job Posting — Your Name
Referral, Job Title, Your Name
Job ID, Age, Your Name
Attach your cover letter and your resume to the email. If the employer doesn't accept attachments, copy your cover letter and paste it unformatted into the body of your email. Most browsers have a "Paste as plain text" option when you right-click on the email. If that's not available, you can click "Remove formatting" under "Formatting options"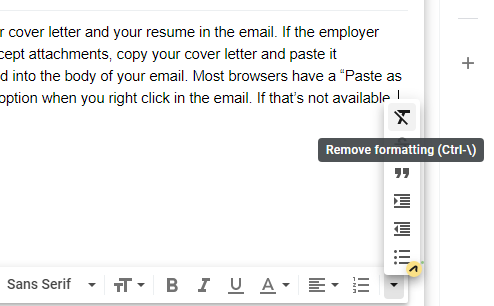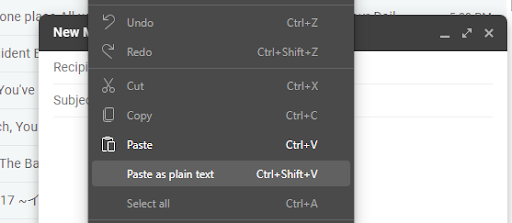 Lastly, don't forget your email signature! You should include your contact details, so the hiring manager or whoever's looking at your application can quickly reach out. It should look something like this:
Full name
Address
Email address
Cellphone number
6) Job cover letter template
Jane Doe
1010 Clear Street, Ottawa, ON K1A 0B1 | NPA-NXX-XXXX | janedoe@email.com
April 13, 2022
John Smith
Position
Acadium
Company address line 1
Company address line 2
Dear Mr. Smith,
I'm forwarding my application for Acadium's content writing position. I found out about the opening through your booth at my university's job fair last March. After speaking to your representative, I believe my education and organizational experience makes me uniquely qualified to be your next content writer.
As you can see in my resume, I led student teams for ABC Inc.'s annual regional digital marketing competition in my sophomore to senior year. This is partly due to my strong communication and project management skills, which are must-haves for your ideal candidate.
The other reason for my leadership role is my adaptability and resourcefulness. In all three years of competition, I learned our sponsor company's apps—including their CRM, SEO, website analytics, and social media management tools—to understand how a functional content marketing strategy works. Because of my pro-activeness, I was able to set my teams' goals, craft winning strategies, and receive special citations for our project, until we won in my last year.
My performance led to two successful internships: one with a sponsor company, and another with ABC Inc. In both internships, I shadowed marketing teams—remotely and on-location—and created an opportunity to gain hands-on experience. I learned how to create SEO-optimized posts and helped conceptualize videos I posted on social media platforms, resulting in commendations.
I chose to apply to Acadium instead of the companies I interned for because of its direction. Free education and mentorship drove my extracurricular activities. I joined mentorship programs for teens in high-risk communities in the belief that everyone deserves access to tools and support to reach their dream careers. Working for Acadium will support my long-term goal of helping make education accessible while getting to do what I know I do best: marketing.
I'm confident that I fit Acadium's work culture, and can deliver the type of content that will help its mentorship reach those who need it the most. I've linked to three high-converting posts I created in my internship in my email. I can be reached through email and social media, should you need more information.
Sincerely,
Jane Doe
Skills to add for specific marketing jobs (SEO, content marketing, etc.)
Every marketing role has specific skills that you need to hit in your cover letter.
Keep your template specialized by noting what experiences and skills are best suited for specific marketing roles.
1) Digital marketing
Entry-level digital marketing jobs typically require you to wear many hats—and in some cases, ALL the hats. As a generalist role, you need familiarity with multiple marketing channels, including:
Email marketing
Direct selling
Digital advertisements
SEO marketing
Social media marketing
Video marketing
Blogs
Influencer marketing
Any familiarity with business-to-business (B2B) and business-to-client (B2C) marketing will also help. Job descriptions will also often look for candidates with these skills:
Can formulate content strategies
Analyze site data and online statistics
Develop and edit assets for marketing campaigns
That's aside from soft skills and core competencies—transferable skills applicable to a wide range of jobs.
2) Social media marketing
Working in social media involves retaining the attention of a community, and inspiring continued engagement with a business. That can't be achieved by posting willy-nilly, or merely sharing the latest trends. Thus, your cover letter should reflect how you plan on doing this for your employer.
Having a working knowledge of Buffer, Hootsuite, Meta Business Suite, and other social media management platforms helps a ton. It's a plus if you've used these to manage any projects or business in any capacity. And even if you don't have professional experience using these tools, it shows that you know how to operate tools you'll likely use in the open role.
It'll help if you highlight relevant skills, such as writing, data analysis, and content creation. What's more, showing interest in social media as a marketing tool can tell a recruiter that you're interested in learning more about the job.
3) Content marketing
The sample template above works for entry-level content marketing positions! But aside from digital marketing skills, you'll need a firm grasp of copywriting and design. Copywriting is essential for every digital marketer, while graphic design and video production are crucial for engaging with highly visual audiences.
4) Email marketing
Email marketing requires a lot of creativity and analytical thinking. That's because you'll need to create email campaigns that persuades audiences to click through, and analyze what prevented them from hitting delete. Head off your cover letter by exhibiting how you have these transferable skills. Dig deep, and you'll find experiences you can use for your cover letter.

5) SEO
SEO is king in digital marketing. And as a fresher or someone switching careers into entry-level SEO work, you likely already have some knowledge in SEO. Here's a quick checklist of SEO-relevant skills you can put in your entry-level cover letter:
Data and market analysis
Consumer behavior research
HTML/CSS/JavaScript knowledge
Keywords and phrase research
Writing and editing skills
How to gain marketing experience worth writing about
Right off the bat, one of the best ways to get relevant marketing experience is through courses. Marketing courses teach fundamentals while letting you practice on tasks that test your skills. And since they grant certification, you'll have proof of your skills.
But if you want a surer way to prove you're qualified, why not try a marketing apprenticeship?
A marketing apprenticeship is more than just an apprenticeship. You'll learn marketing by engaging in tasks that have a real impact on businesses. Plus, you'll get to use marketing tools that may be cost-prohibitive or have wider functions when used by businesses.
Need more tips? Here are posts that will help you write your entry-level marketing cover letter, and in your general job search:
Five years in journalism, two in proofreading, and eight in freelance ghostwriting. Creating content that's entertaining, informative, and actionable shapes my writing. When not scrutinizing my copy, I'm likely watching hockey.
Top Marketing Webinars for Digital Marketers in 2023

By attending these webinars, you will have the opportunity to learn from industry leaders, gain insider knowledge, and stay ahead of the competition.

9 Types of Digital Marketing to Choose From in 2023

Digital marketing is a dynamic field that offers diverse career opportunities. From search engine optimization to social media marketing, there are many specializations to explore. Whether you're just starting out or looking to switch careers, this guide will help you find your ideal digital marketing niche.


Subscribe to our newsletter for digital marketing resources
Become a better marketer with our digital marketing resources and tips shared weekly in your inbox.

Build your marketing career for free or find marketing talent on any budget — fully remote.